K 1600 B Grand America
From $44,695* Ride Away

*Manufacturer's Recommended Ride Away Price for a new BMW K 1600 B Grand America with no optional extras. Price is based on the motorcycle being garaged in Sydney metro and a private owner with a good driving record. Price may vary according to individual circumstances and may vary between authorised BMW Motorrad dealers and states/territories. Modifications and mistakes reserved. Please consult your authorised BMW Motorrad dealer for further details.

All motorcycles are supplied only with equipment required by law (e.g. reflectors as per Euro 4 standard). Illustrations on this website may differ from this.
All motorcycles are supplied only with equipment required by law (e.g. reflectors as per Euro 4 standard). Illustrations on this website may differ from this.
THE BMW K 1600 GRAND AMERICA.
Beyond the horizon.
The open road awaits, but even that's not enough for you... You always want to take it further, expand your journey to the horizon - and beyond . With the Grand America, you can relax and enjoy the ride for miles on end.
This full dresser offers the utmost riding pleasure and comfort for carefree cruising as a fully-equipped luxury touring bike. The legendary 6-cylinder in-line engine triumphs all with an unparalleled running smoothness and impressive power development.
The high windshield, distinctive rear and easy-to-use topcase and backrest is complemented by innovative technology and an abundance of space. The Grand America makes the horizon seem boundless – and yet so close. 

Choose your style.
Discover the range of available colours on the K 1600 B Grand America.
Features.
Features.
Cast Aluminium Wheels
BMW Motorrad Integral ABS, ABS Pro

Dynamic Traction Control, Dynamic ESA
LED Lights, Coloured TFT Screen, Xenon Headlight
Heated Grips, Seat Heating, Comfort Turn Indicator
Cruise Control, Riding Modes, Comfort Footrests
Adjustable Levers, Adjustable Windscreen
Hill Start Control Pro
Radio, Bluetooth Interface, Floorboards
Engine Protection Bar
Traction Package:
Adaptive Headlight, Daytime Riding Light
Hill Start Control, Tyre Pressure Control
Equipment Package:
Keyless Ride, Gear Shift Assist Pro
Central Locking System, LED Additional Fog Light
Anti-Theft Alarm System
Grand America Package:
Audio System ECE, High Windscreen
Revers Gear, Additional Speakers
Top Case
+ Read more
3 Years Warranty.
Ride on & on & on. We're giving you an extra year. 
Now there's a 3-year warranty on all motorcycles.*
* Valid on new motorcycles purchased from 1st October 2018
There's no denying it: With the iconic sloping line and the steel silencer parallel to the road, this Bagger luxury touring bike appears to become one with the road. The irresistible front and the striking rear with LED indicators and brakes integrated into the cases makes it stand out from the crowd. The powerful black 6-cylinder design leaves no room for doubt: You're enjoying your freedom to the max. This is down to the standard black tubular handlebars which are always within reach. The high-quality plates on the machine's tank proves its purpose - as well as yours: K 1600 Grand America.     

+ Read more
6-cylinder in-line engine
175
Nm max. torque at 5,250 rpm
750
mm seat height (low seat)
125
Nm at 1,500 rpm, this equals 70% of the max. torque
Oil-/ watercooled four-stroke in-line six-cylinder engine
It's your tour, your dream. Pave your own way with the 6-cylinder in-line engine and its 1649 ccm capacity. For a dynamic experience and superb running smoothness. The maximum torque of 175 Nm and 118 kW (160 HP) develop an incomparable and effortless thrust. You already have a total of 70% of the torque available at 1,500 rpm. You can feel the power even with the smallest turn of the wrist – followed by powerful, relaxed gliding. The reverse assistant ensure effortless manoeuvring when you take a break from riding. You can even continue relaxing for the rest of the ride. Because thanks to Keyless Ride, you can hit the road again quickly and effortlessly. 
+ Read more
EXPERIENCE THE SOUND OF THE K 1600 Grand America
The Highlights of the K 1600 Grand America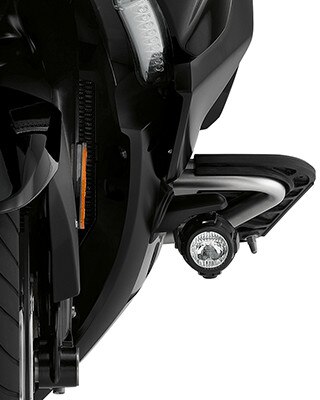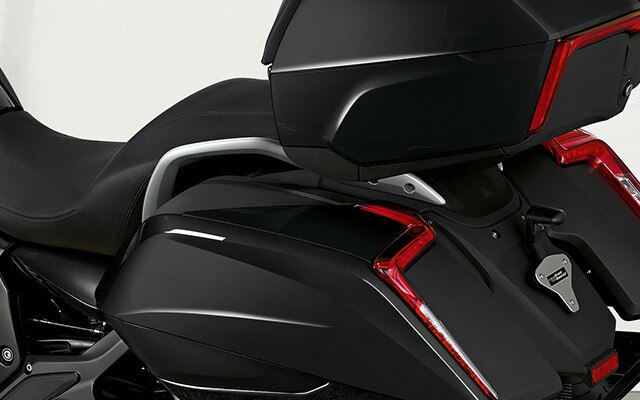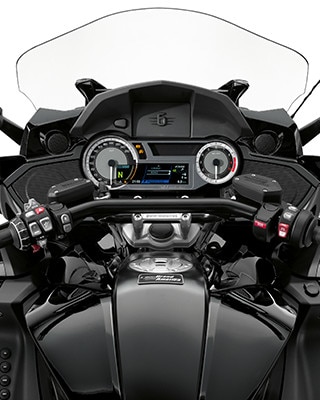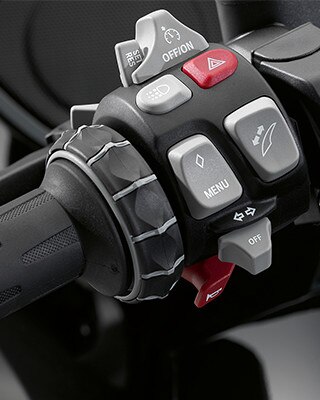 Audiosystem including set-up of the navigation.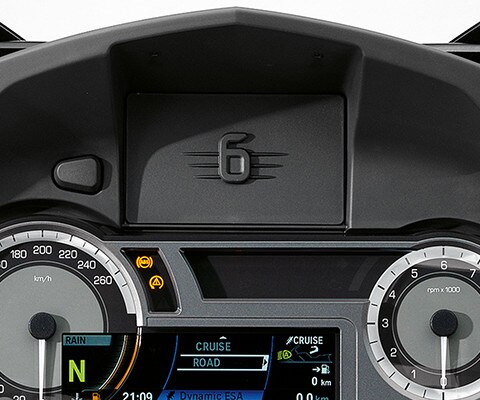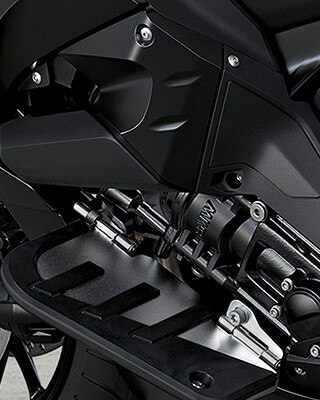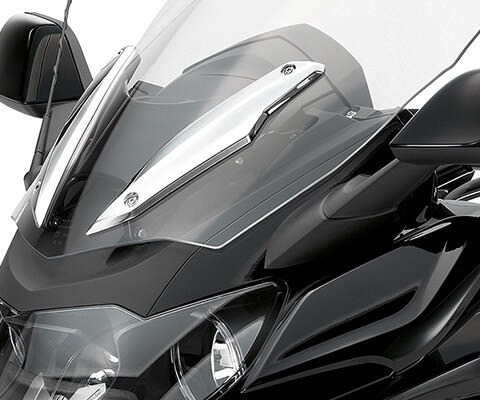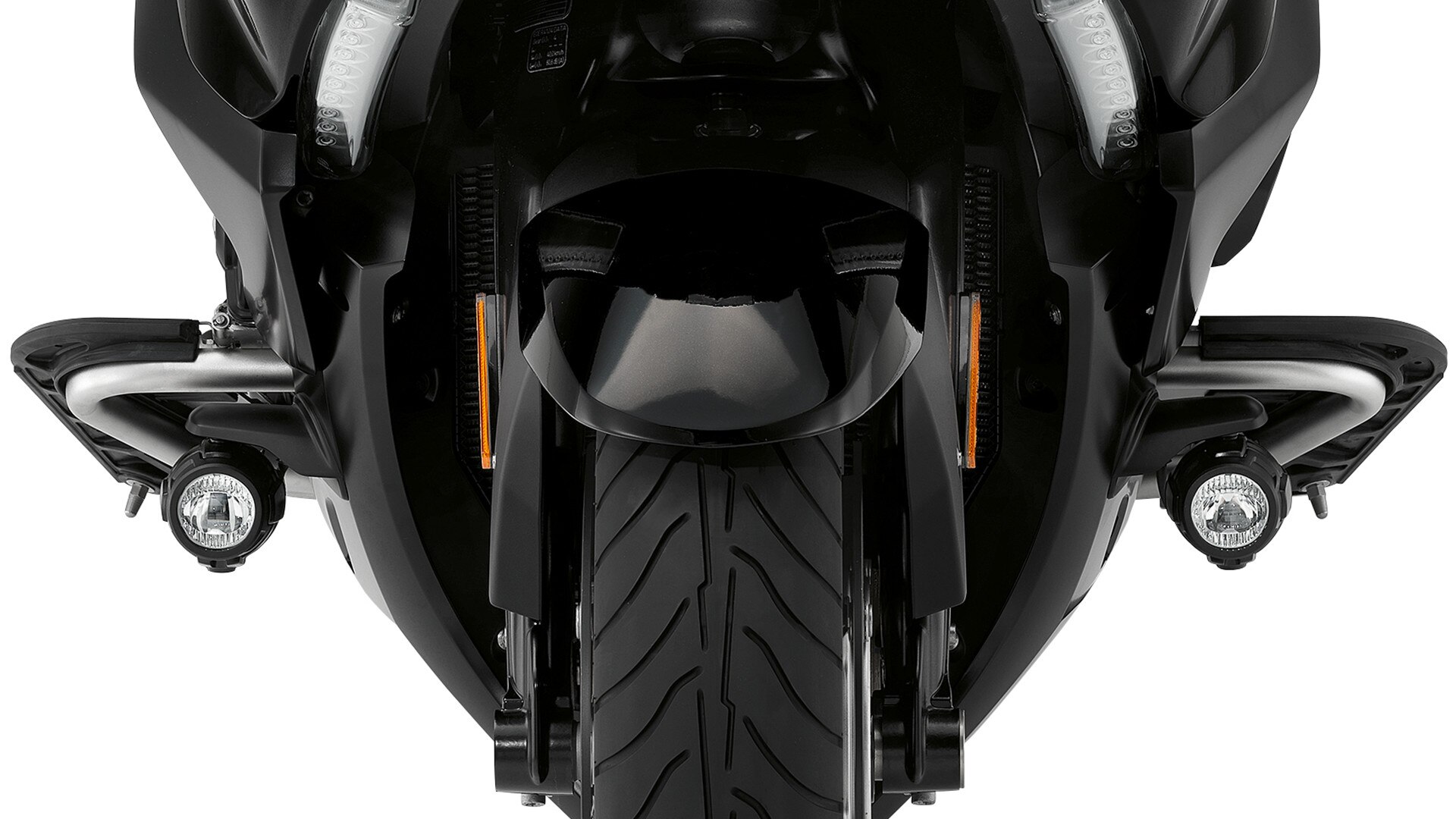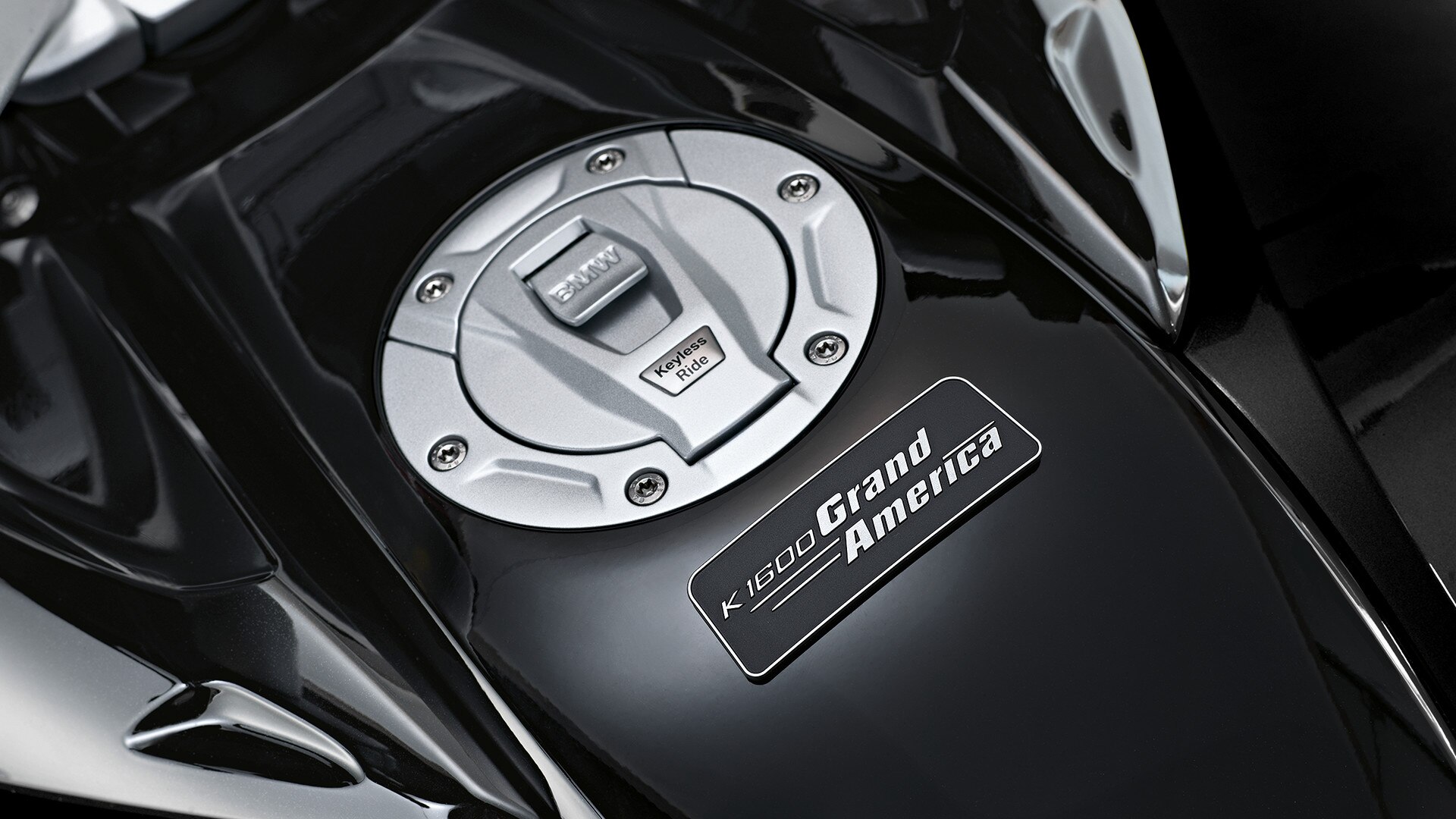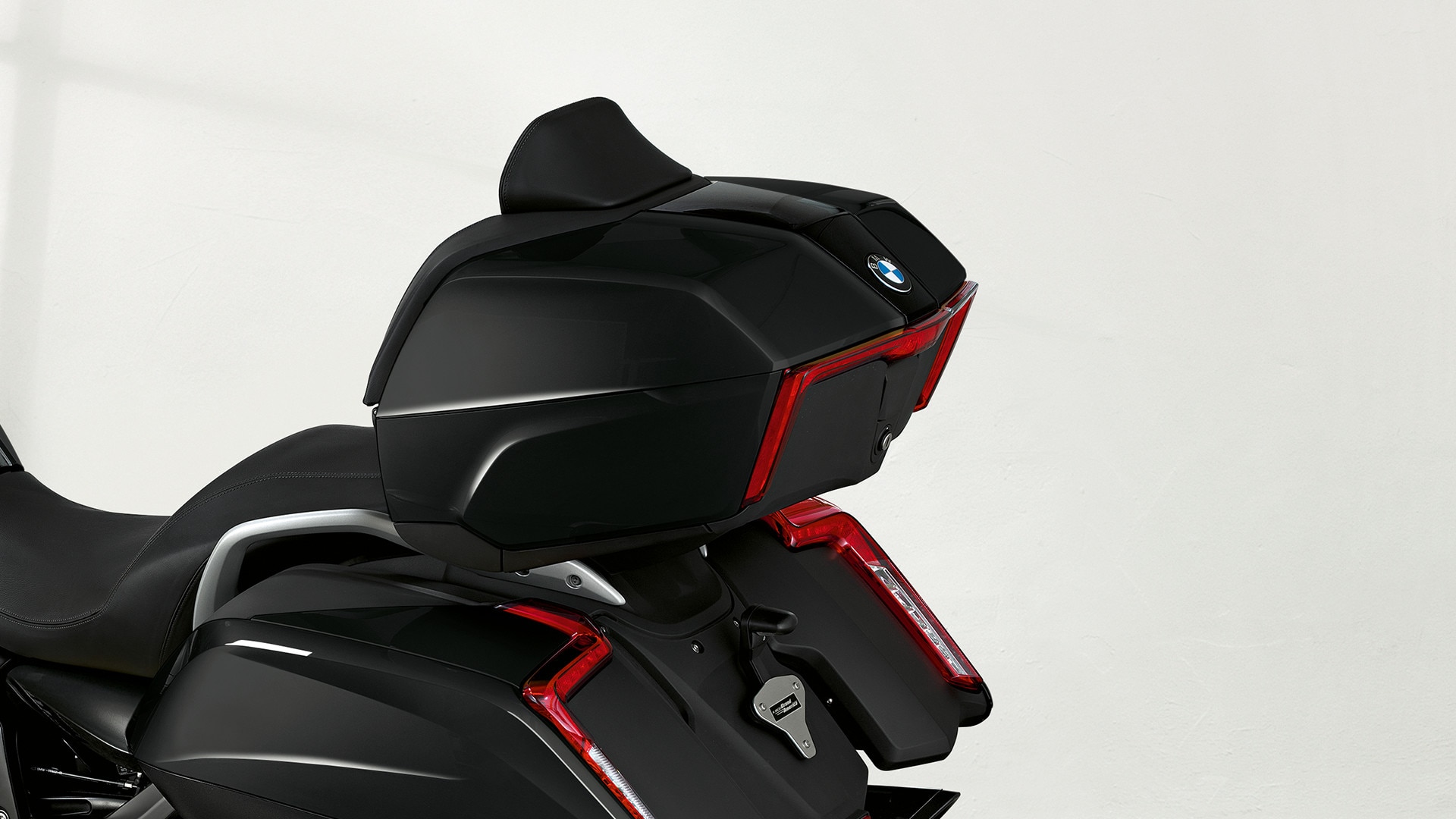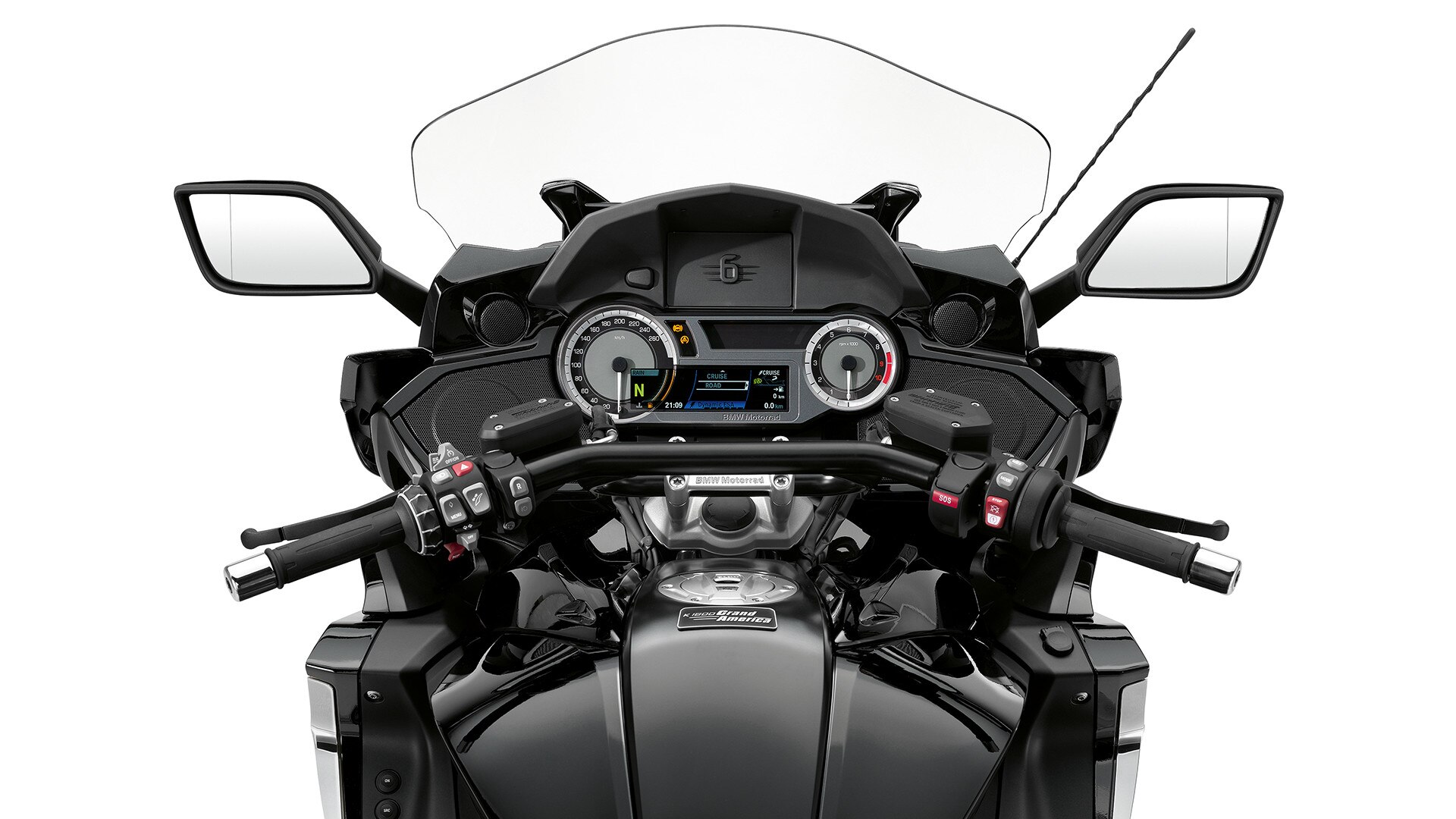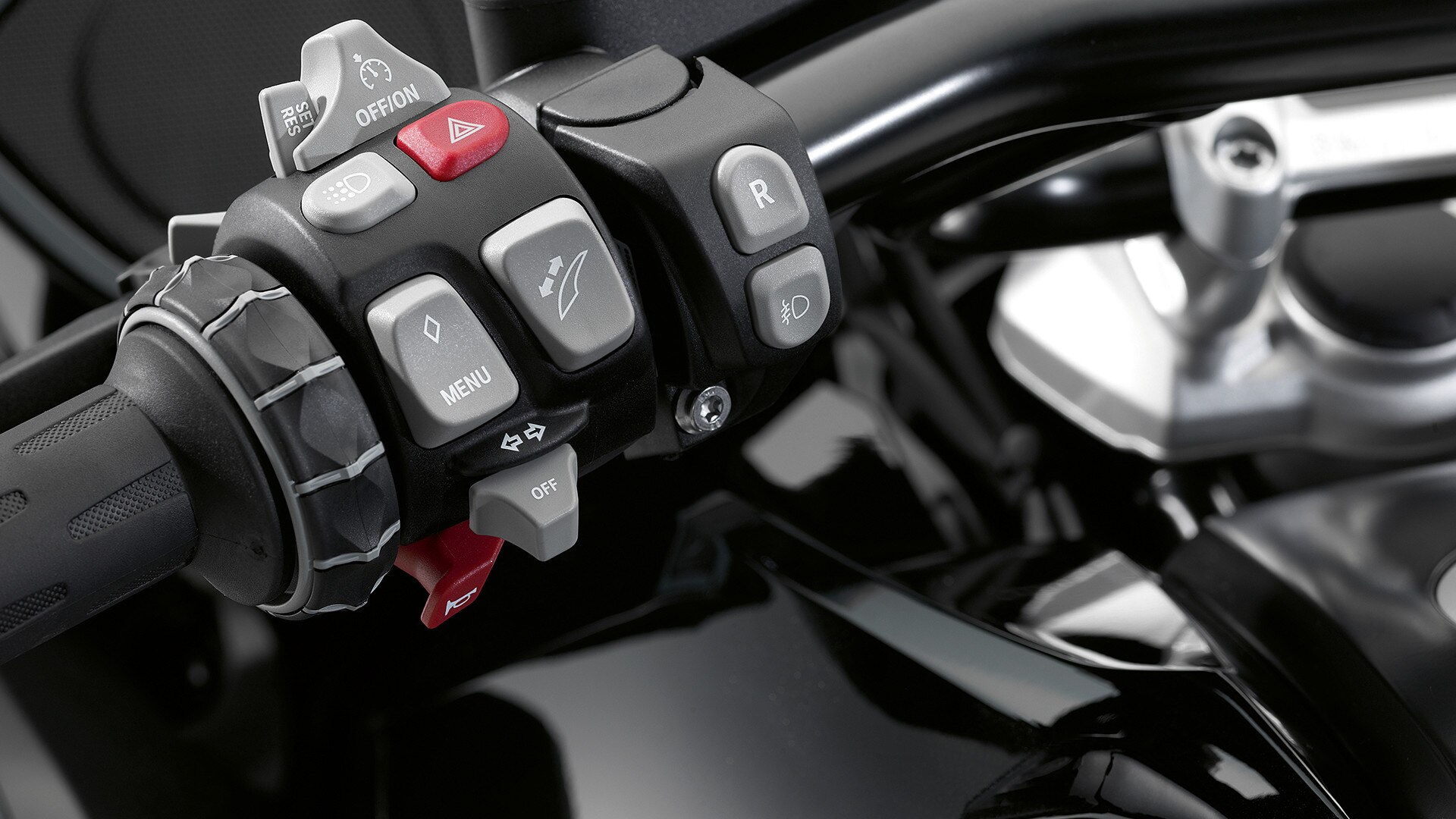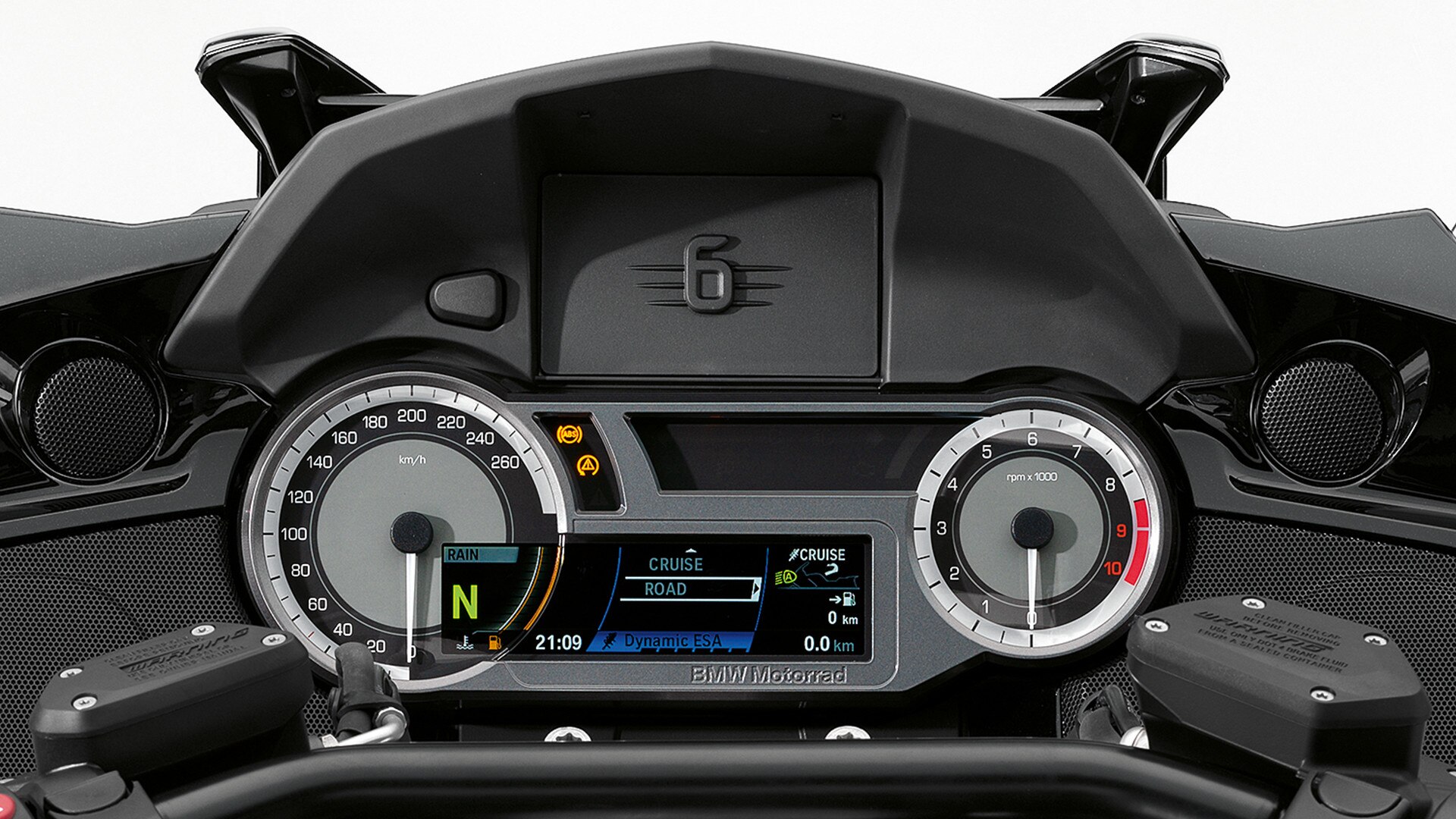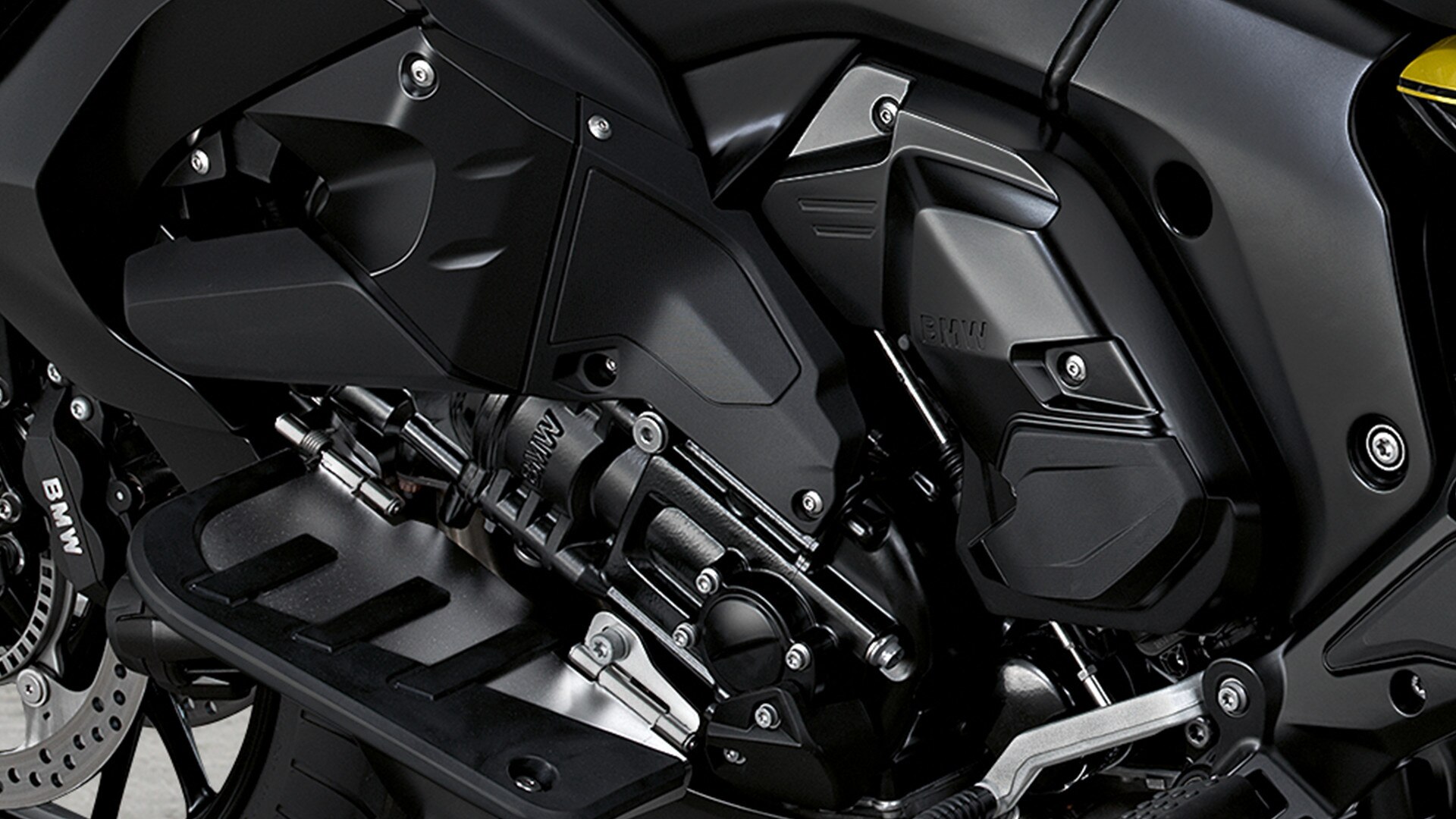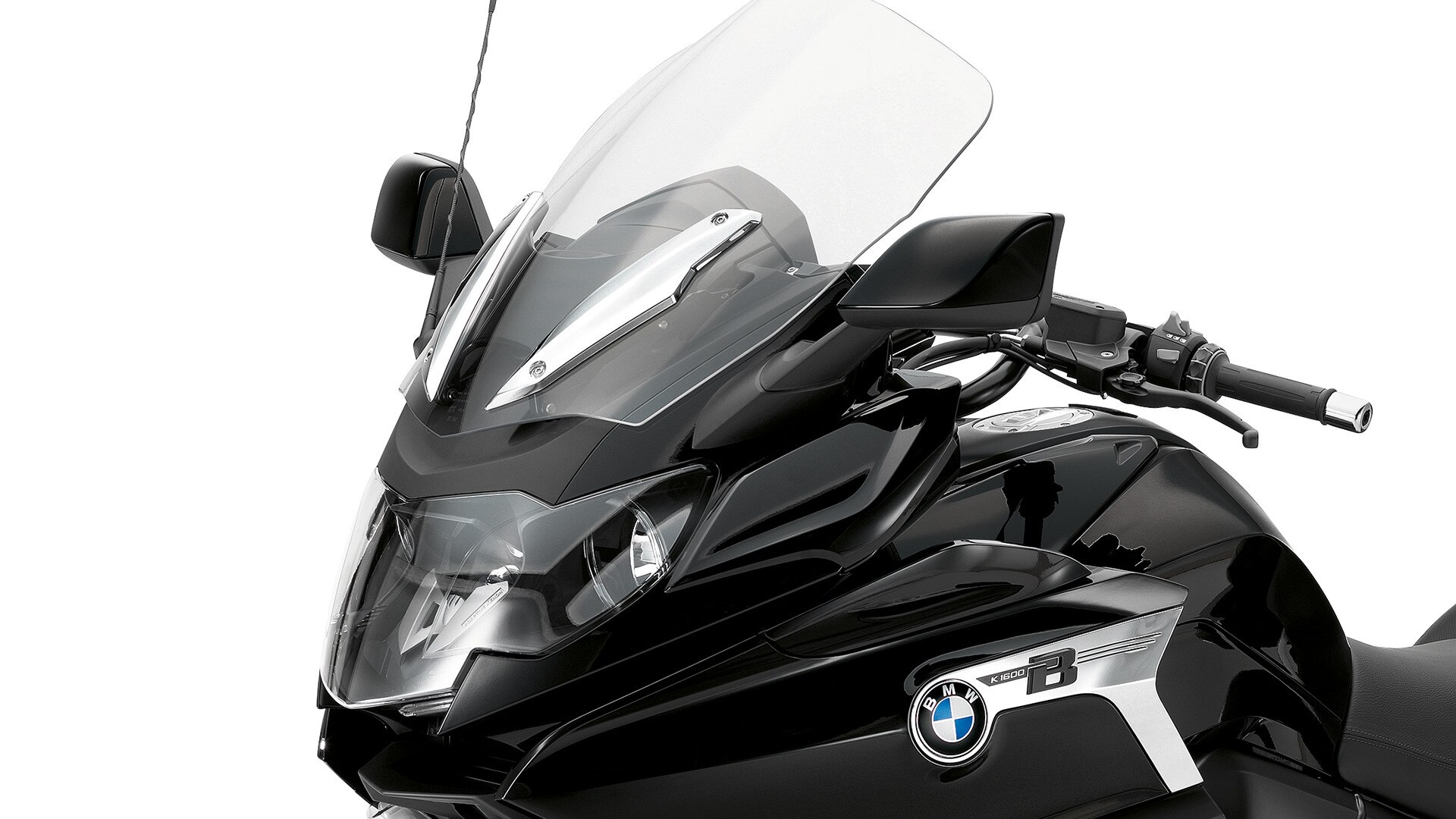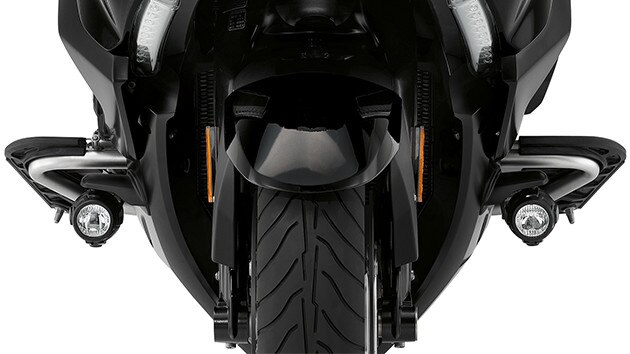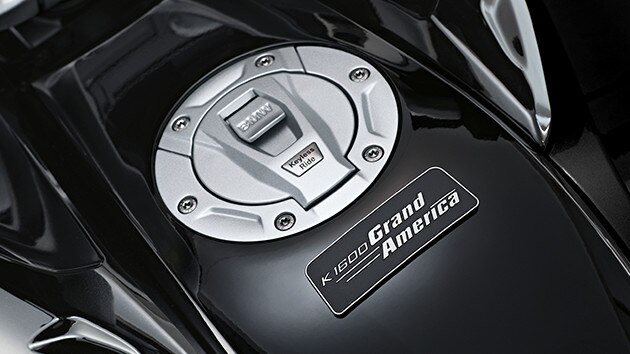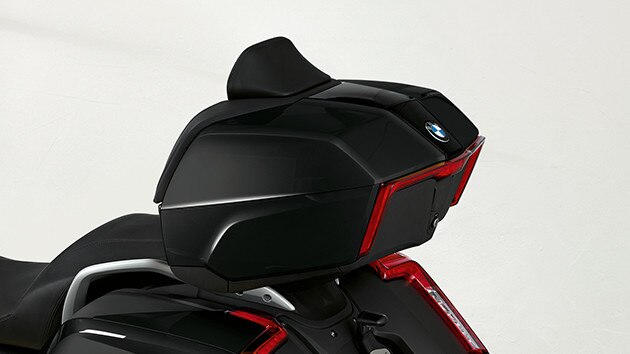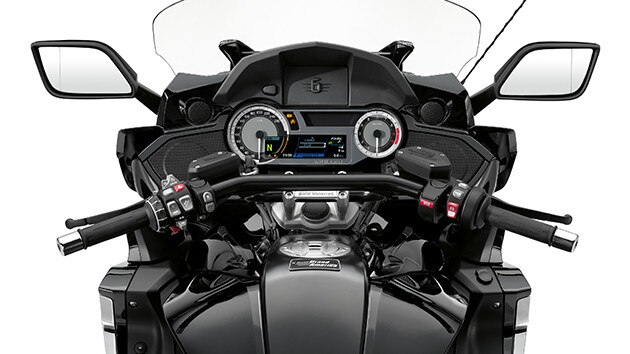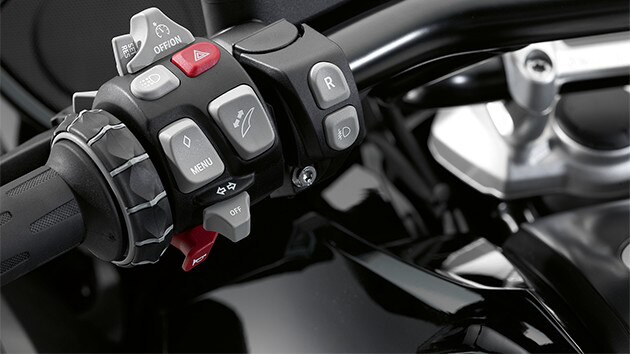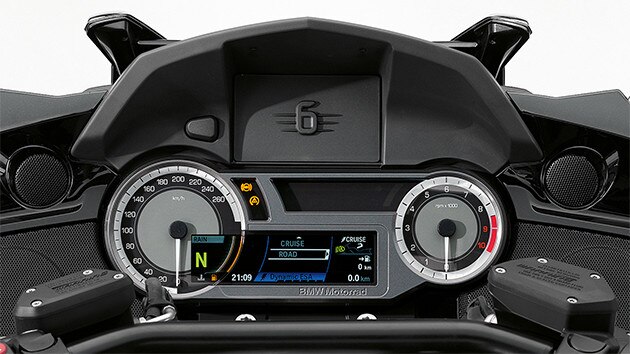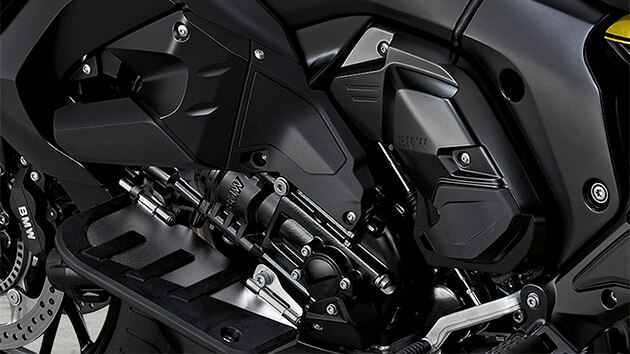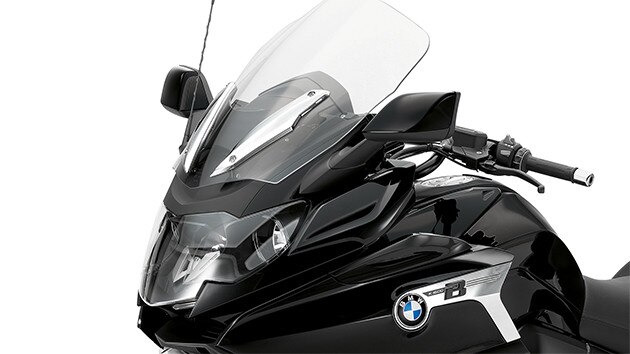 On and on.
On and on.
Comfortable cruising with an abundance of space: with the Grand America, you'll never want the journey to end. The standard Dynamic ESA embodies the best possible handling and riding dynamics - the "DYNAMIC" mode allows you to glide even smoother. Rest your legs on the standard footboard – laid-back, typical "American way of ride". The pillion seat height was reduced by 7 cm for even more accessibility, especially when mounting and dismounting the bike –  and the foot pegs were also moved down. Furthermore, the standard engine protection bar and the audio system with navigation preparation are guaranteed to impress. The journey continues. Make yourself even more comfortable with the armrest accessory, available on request. 

+ Read more
Highlights in detail.
Dynamic ESA: unevenness ironed flat.

For the best road contact.

The standard Dynamic ESA once again significantly increases the first-class riding comfort of the K 1600 Grand America. It ensures the best traction, safety and the highest level of comfort: dynamic ESA controls the suspension depending on the driving condition and riding manoeuvres by automatically adjusting to the detected conditions. In doing so, it ensures significantly improved contact between road and tyre, even when in a lean. Enabling riding characteristics which are always stable and an added boost in comfort and safety – especially on those long tours.

Reverse assistant: effortlessly manoeuvring and getting out of parking spaces.

Simply reverse.

Steep paths and narrow space conditions at popular look-out points or parking spots are no issue with the convenient torque control assist (TCA). Leaving you with only a smile for parking and manoeuvring. Activate the reverse assist by putting the bike into neutral and activating the assist function using the button on the left handlebar. As soon as the R is shown on the display and started by pressing it, you can glide out of your parking space with ease and get going on to your next destination with ample momentum.
Elegant muscleman.
BMW Motorrad presents the Concept 101 touring bike.