G 310 R
From $7,070* Ride Away

*Manufacturer's Recommended Ride Away Price for a new BMW G 310 R with no optional extras. Price is based on the motorcycle being garaged in Sydney metro and a private owner with a good driving record. Price may vary according to individual circumstances and may vary between authorised BMW Motorrad dealers and states/territories. Modifications and mistakes reserved. Please consult your authorised BMW Motorrad dealer for further details.
All motorcycles are supplied only with equipment required by law (e.g. reflectors as per Euro 4 standard). Illustrations on this website may differ from this.
THE BMW G 310 R.
INTENSE RIDING PLEASURE.
The BMW G 310 R is the essence of riding pleasure. It was built for pulsing cities, and for all those who simply love riding motorcycles. Manoeuvrable, easy to handle and sporty at the same time – you'll get to work, the next hotspot or out of the city in a breeze. No matter your size, the G 310 R is designed to make every rider feel immediately comfortable with optimised ergonomics and adjustable levers.
Maximum quality, excellent workmanship and extraordinary technology ensure your next journey is one you won't forget.
Choose your style.
The BMW G 310 R is available in three exciting colour variants: Cosmic Black, Racing Red and – as a real highlight – HP Motorsport.
Specification.
Specification.
Available in Cosmic Black, Racing Red or Pearl White Metallic
BMW Motorrad ABS
Info Flat Screen
LED Tail Light
+ Read more
3 Years Warranty.
Ride on & on & on. We're giving you an extra year. 
Now there's a 3-year warranty on all motorcycles.*
* Valid on new motorcycles purchased from 1st October 2018
Good looks unmistakably run in the family – the BMW G 310 R clearly carries the genes of the S 1000 R. The sporty headlight fairing with powerful headlight, dynamic fuel tank trim and typical roadster proportions make it an eye-catcher on the street. The G 310 R is light and strong at the same time thanks to its dynamic front and distinctive rear. The short seat emphasises the roadster dynamic in the rear section and gives the bike, especially in white, an unmistakeable motorsport look. The gold anodised fork and brake callipers emphasise the high-quality workmanship of the machine.
Another highlight is the detailed aluminium swing arm. The cut-outs ensure lightness and the struts offer stability. And the wide tyres ensure the correct adhesion to the road – riding pleasure is guaranteed.
+ Read more
One-cylinder four-stroke engine
25
kW (34 HP) at 9,500 rpm
28
maximum tightening torque in Nm at 7,500 rpm
3.3
litre consumption per 100 km based on he WMTC
G 310 R Water-cooled, four-stroke single-cylinder engine
Light, strong and manoeuvrable.
Light, strong and manoeuvrable.
And the G 310 R doesn't take second place technically either. Quite the opposite: with the sophisticated and unconventional technical highlights you'll lead instead of follow. The one-cylinder, four-strike 313 cc engine, among other things, helps to ensure this. The unusual tilt of the cylinder to the rear and the cylinder head that has been rotated 180° lowers the centre of gravity and shifts it in the direction of the front wheel. Because of this, the G 310 R is more agile and easier to control.
The special engine concept also allows a very long swinging arm despite short wheelbase and therefore ensures increased ride stability. Good looks, powerful drive and weighs less than 160 kg, even fully fuelled – with the G 310 R you can simply enjoy motorcycling.
+ Read more
Experience the sound of the G 310 R
The highlights of the G 310 R
Gold-anodised upside-down fork.
Multi-functional display.
Stainless steel exhaust system.
Innovative single-cylinder engine.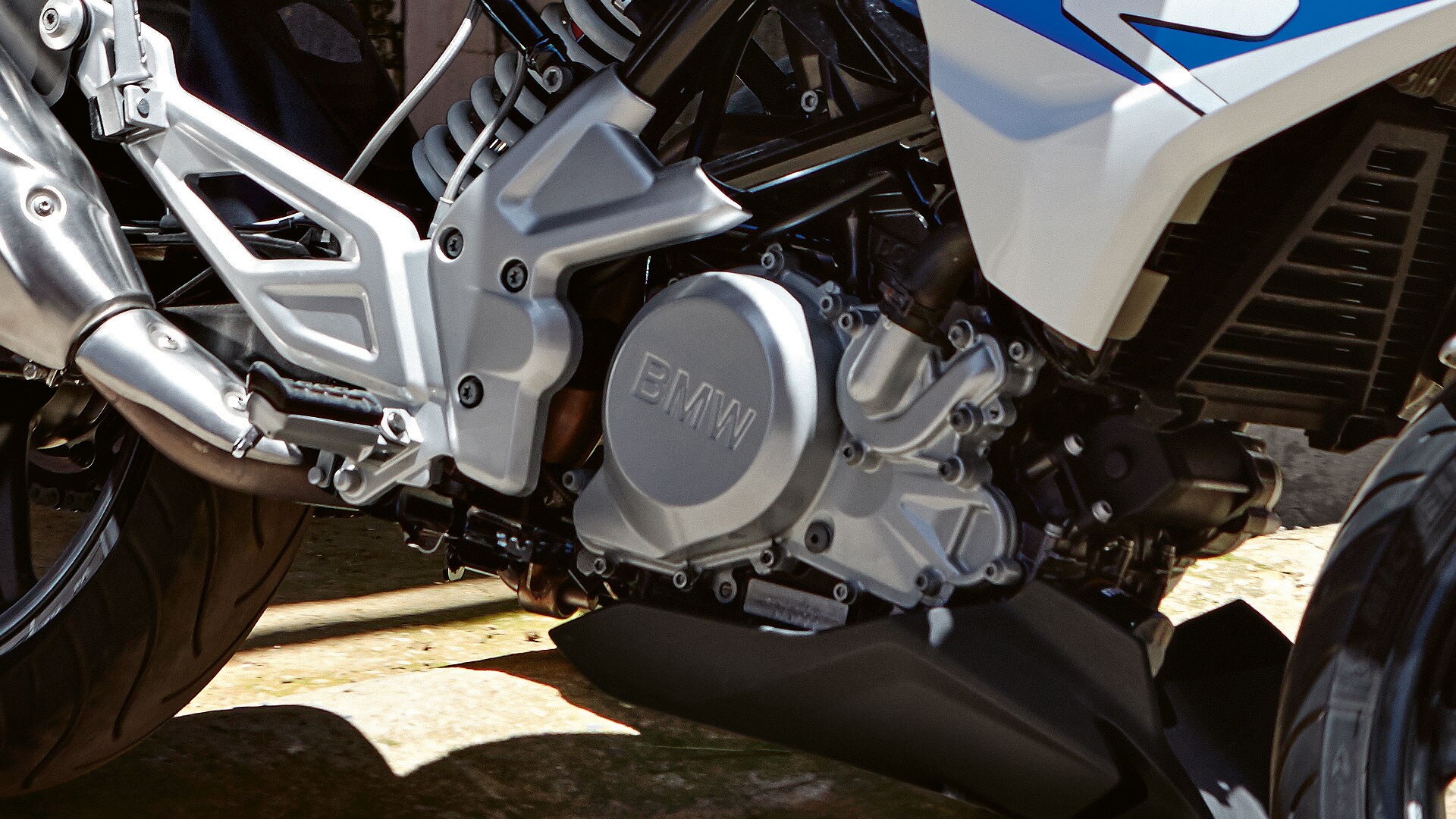 Everyone wants to ride it.
Everyone wants to ride it.
Ride stress-free and relaxed through the streets with the G 310 R. Even in the big-city hustle and bustle, you'll always ride with confidence thanks to the successful layout of all of the control elements. The successful ergonomic layout of the handlebars, footrest and control elements ensures a superb riding sensation. And on any surface, the geometry and spring and damper tuning makes it an agile city-hopper. Whether riding in heavy city traffic, commuting to work or just getting out of the city at the weekend – with the G 310 R you'll want to ride and ride!
+ Read more
Highlights in Detail
Seat heights for every body size.

The G 310 R offers the right seat for all riders, ensuring your stability on the bike. Alongside the standard seat of just 785 mm, two other options are available as special accessoires: a lower variant with 770 mm and a higher, particularly comfortable seat with seat height of 880 mm.

Powerful brake system and standard ABS.

No BMW motorcycle since 2013 has been without it: standard ABS. On the G 310 R, it ensures safe braking manoeuvres on every journey together with the powerful brake pads – even on poor or dirty roads.
Your City, Your Playground
Challenge the City.
With the G 310 R through São Paulo.
The challenges are the same in cities all over the world: red lights, packed subways, long lines of traffic that have you inching forward at a snail's pace. No problem for the G 310 R. It will turn your daily commute to work a into an enjoyable ride and show you the city from a new perspective.
Stunt rider Chris Northover takes the G 310 R through São Paulo's crazy evening rush hour traffic. He's able to meander the bike through the big city hustle and bustle with lightness and agility. With fast-changing curves, he leaves the city behind and goes out to redefine the city limits. With the new BMW Roadster, Chris demonstrated that 313 cc is just a number and real performance is measured on the road.
Read more
Package Inclusions

Topcase light, 29L
Luggage carrier
Tank bag, 13 - 20L

 

Package Retail Price: $550

Standard Price (if purchased separately): $806.20

 

All prices are inclusive of GST but do not include fitting costs. Price correct at time of print and are subject to change without notice.

Storage
Top Case 29L Light with adaptor plate & badge
Safety
LED flashing turn indicator (set of 4)
Brake disc lock with alarm system
View the range of BMW Motorrad Accessories available across all models, including functional bags and toolkits to make the most of your next adventure.

+ Read more
View Range
*All prices above are inclusive of GST but do not include fitting costs. Price correct at the time of print and are subject to change without notice.
+ Read more