R 1250 R
TBA

*Manufacturer's Recommended Ride Away Price for a new BMW R 1250 R with no optional extras. Price is based on the motorcycle being garaged in Sydney metro and a private owner with a good driving record. Price may vary according to individual circumstances and may vary between authorised BMW Motorrad dealers and states/territories. Please consult your authorised BMW Motorrad dealer for further details.
All motorcycles are supplied only with equipment required by law (e.g. reflectors as per Euro 4 standard). Illustrations on this website may differ from this.
The new BMW R 1250 R
versatile and expressive.
The new R 1250 R is designed for a more dynamic appearance. This is mainly due to the all-new Boxer engine – with a maximum torque of 143 Nm, the reworked engine delivers more power than ever before. The variable camshaft control BMW ShiftCam technology offers you optimum performance in every engine speed range. During relaxed cruising or a sporty tour, you experience the pure thrill of riding and the typical punch of the Boxer engine at all times.  
Your roadster, your style.
The newly designed engine spoilers and radiator cover bring a fresh look. Whatever style you choose, you'll enjoy your roadster and enjoy every tour in your own way.
Black Storm Metallic
For a classic look, the standard model is painted in Black storm metallic – front-wheel cover, front spoiler, tank side trim and the rear side panels receive this subtle paintwork. The black details complement the harmonious overall look of the roadster: main and rear frame, brake calipers, radiator cover and the seat.
Style HP
Without compromise: the Style HP emphasizes the dynamic and sporty side with the colour set Light white, Racing blue metallic and Racing red. The golden brake calipers as well as the engine spoiler, radiator cowls and fuel tank covers, all of which are made of stainless steel, provide deliberate accents. The Style HP also includes the Core Screen Sport in the TFT display, which superimposes a rev counter in a prominent position and provides information about the lean angle.
Style Exclusive
Your Roadster cuts a fine figure on every tour with the Style Exclusive. All trim panel components are painted in Pollux metallic matt. The golden brake calipers, radiator cover and stainless steel tank cover emphasize the elegance – for the unique appearance.
Option 719 Stardust Metallic
Individuality has a name: Option 719 Stardust metallic. The paintwork including the painted décor perfectly accents the roadster and gives the bike a maximum of individuality. This is emphasized by stainless steel components: tank cover, radiator cover and engine spoiler. Additional contrast is provided by the dark brown Option 719 seat, which is available as an optional accessory.
3 Years Warranty.
Ride on & on & on. We're giving you an extra year. 
Now there's a 3-year warranty on all motorcycles.*
* Valid on new motorcycles purchased from 1st October 2018
TWIN-CYLINDER BOXER ENGINE
100
kW (136 HP) at 7,750 rpm
143
Nm max. torque at 6,250 rpm
Right from the word go, you can feel the superior qualities of the new Boxer engine: the variable camshaft control system BMW ShiftCam ensures a masterful and even power delivery in every engine speed range. With a capacity increase to 1254 ccm and a maximum torque of 143 Nm, the new engine offers a performance boost that is available at any time and with which you seek to catapult yourself out of even the tightest of corners with even more pressure.  
+ Read more
Learn More about ShiftCam
EXPERIENCE THE SOUND OF THE R 1250 R
Dynamic ESA.
Dynamic ESA.
Dynamic ESA (Electronic Suspension Adjustment) ensures more stable and therefore even safer ride characteristics. The system automatically regulates the damping and spring preload of the telescopic fork and spring struts depending on riding conditions and load and offers the highest level of comfort and traction, even in inclined position.  
+ Read more
The Highlights of the R 1250 R
ShiftCam model inscription.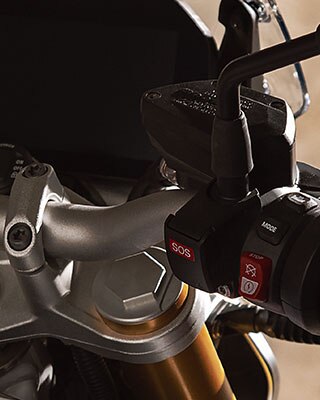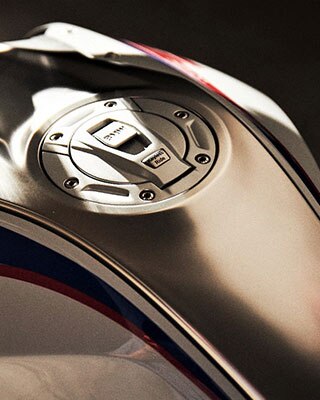 High-resolution TFT colour display.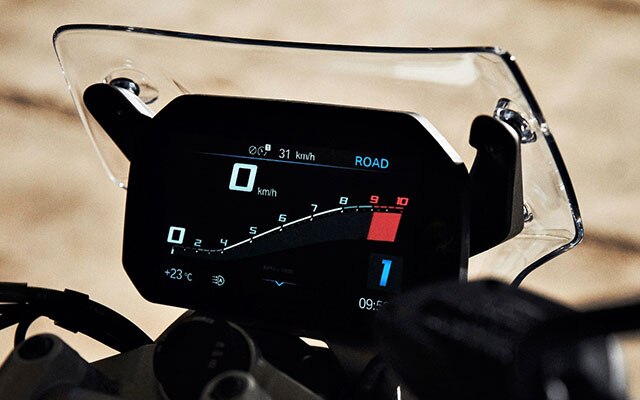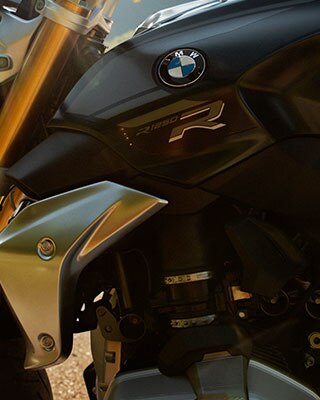 ECALL – the intelligent emergency call as an optional accessory.