C 650 GT
From $17,500* Ride Away

*Manufacturer's Recommended Ride Away Price for a new BMW C 650 GT with no optional extras. Price is based on the motorcycle being garaged in Sydney metro and a private owner with a good driving record. Price may vary according to individual circumstances and may vary between authorised BMW Motorrad dealers and states/territories. Modifications and mistakes reserved. Please consult your authorised BMW Motorrad dealer for further details.


THE BMW C 650 GT.
EXCLUSIVE URBAN STYLE.
The BMW C 650 GT delivers a stylish and streamlined maxi scooter for anyone wanting to experience ultimate comfort whilst taking on whatever the city has to offer. With optimised ergonomics for extended touring, this scooter will allow you to cover long distances in comfort - allowing you to take on much more than just the urban commute.
The innovative Side View Assist alerts you to approaching blind spot vehicles and the large storage compartment ensures you can easily store your shopping, luggage or up to two helmets. 
Choose your style.
Discover the range of available colours on the C 650 GT.
Specification.

 

BMW Motorrad ABS

ASC (Automatic Stability Control)

Stepless CVT engine
Info Flat Screen
Adjustable Levers & Windscreen
Centre Stand & Storage Compartment

Available Options.

Option 719 Sparkling Storm Metallic Paintwork
Option 719 Seat Brown
3 Years Warranty.
Ride on & on & on. We're giving you an extra year. 
Now there's a 3-year warranty on all motorcycles.*
* Valid on new motorcycles purchased from 1st October 2018
Attracts the looks of passers-by.
The new C 650 GT features a distinctive and modern rear section with an appealing look and a new rear light. Details such as the "GT" logo stitched on the seat and the new handlebar cover with a high-gloss centre section and chrome highlights emphasize the particularly sophisticated and exclusive character of the C 650 GT. The higher mirrors vibrate less and provide a better rear view.
+ Read more
Two-cylinder in-line engine
44
kW (60 PS) at 7,750 rpm
4.6
litre consumption per 100 km based on the WMTC
Water-cooled, four-stroke twin-cylinder engine
Powerfully built.
Powerfully built.
The dynamic and powerful water-cooled in-line twin-cylinder engine that delivers 63 Nm, 44 kW (60 hp) and a maximum speed of 180 km/h makes the scooter an agile vehicle for the city and a powerful companion for long journeys.
Thanks to the re-designed clutch and CVT, the scooter now accelerates faster at lower speeds, like at traffic lights.
+ Read more
New look. Powerful sound.
New look. Powerful sound.
The C 650 GT has a new exhaust system made from high-quality stainless steel. It looks extremely flashy, is much lighter than its predecessor and has lower emission and noise levels. In addition, it provides a fuller, more powerful sound.
+ Read more
Experience the sound of the C 650 GT
The highlights of the C 650 GT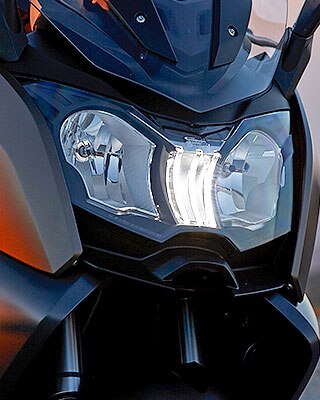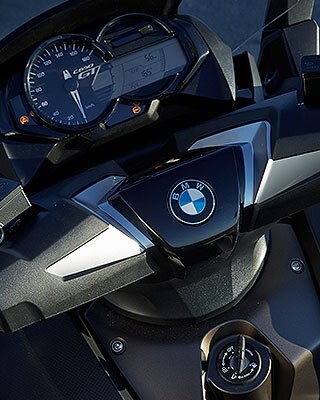 High-quality instrument cluster.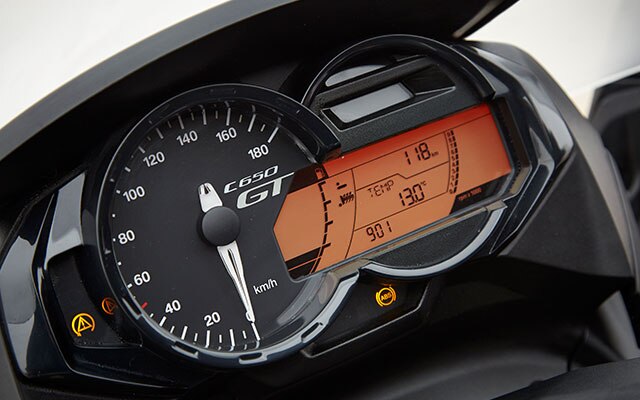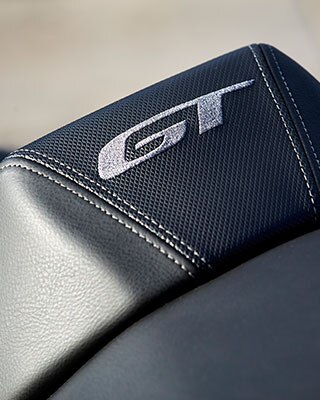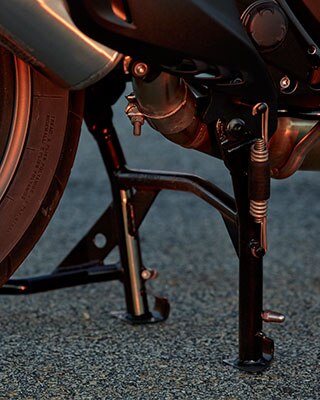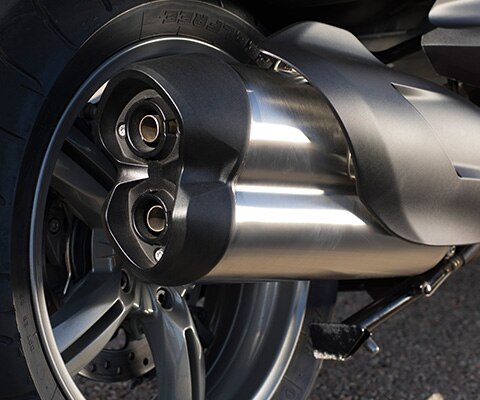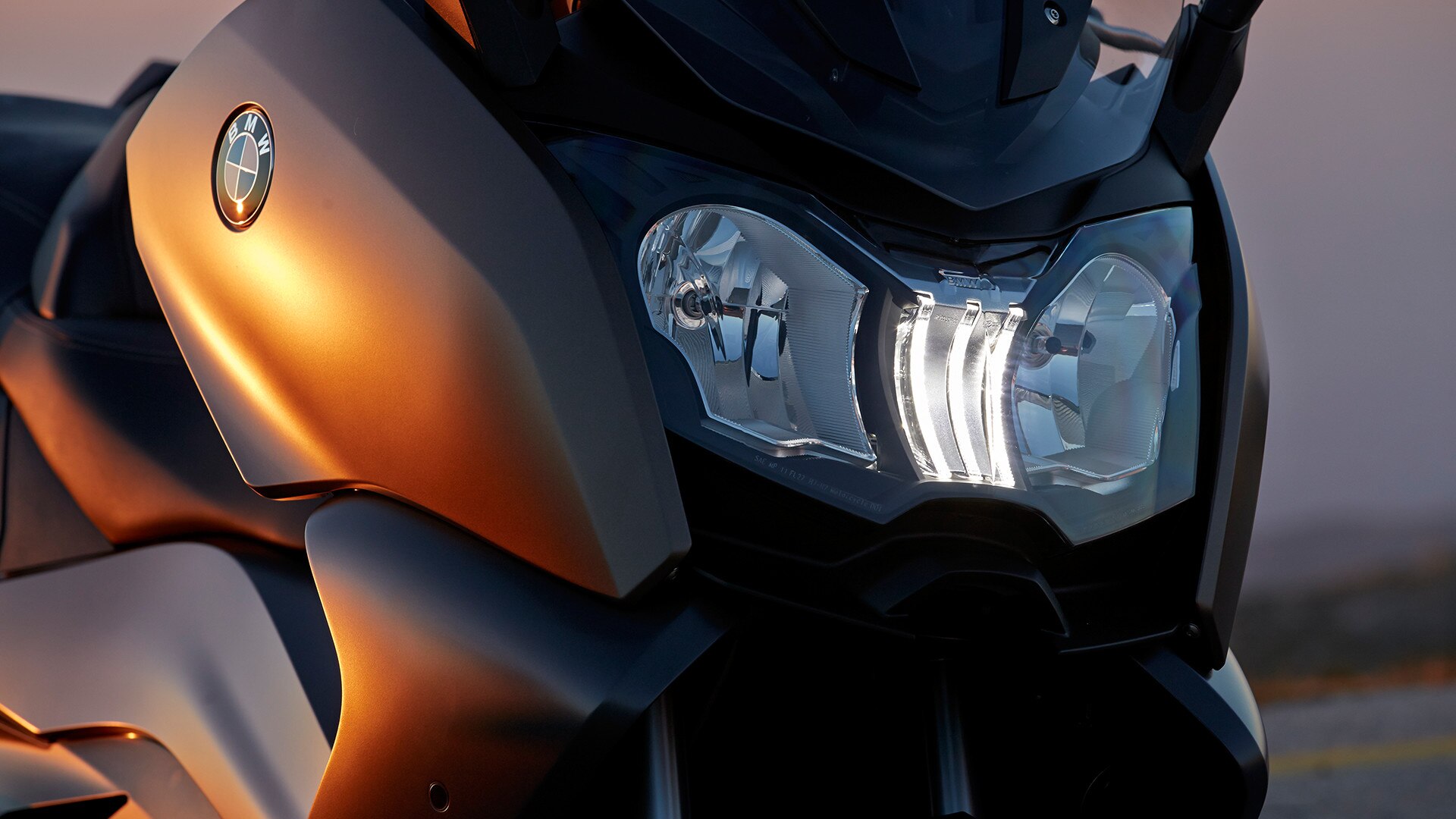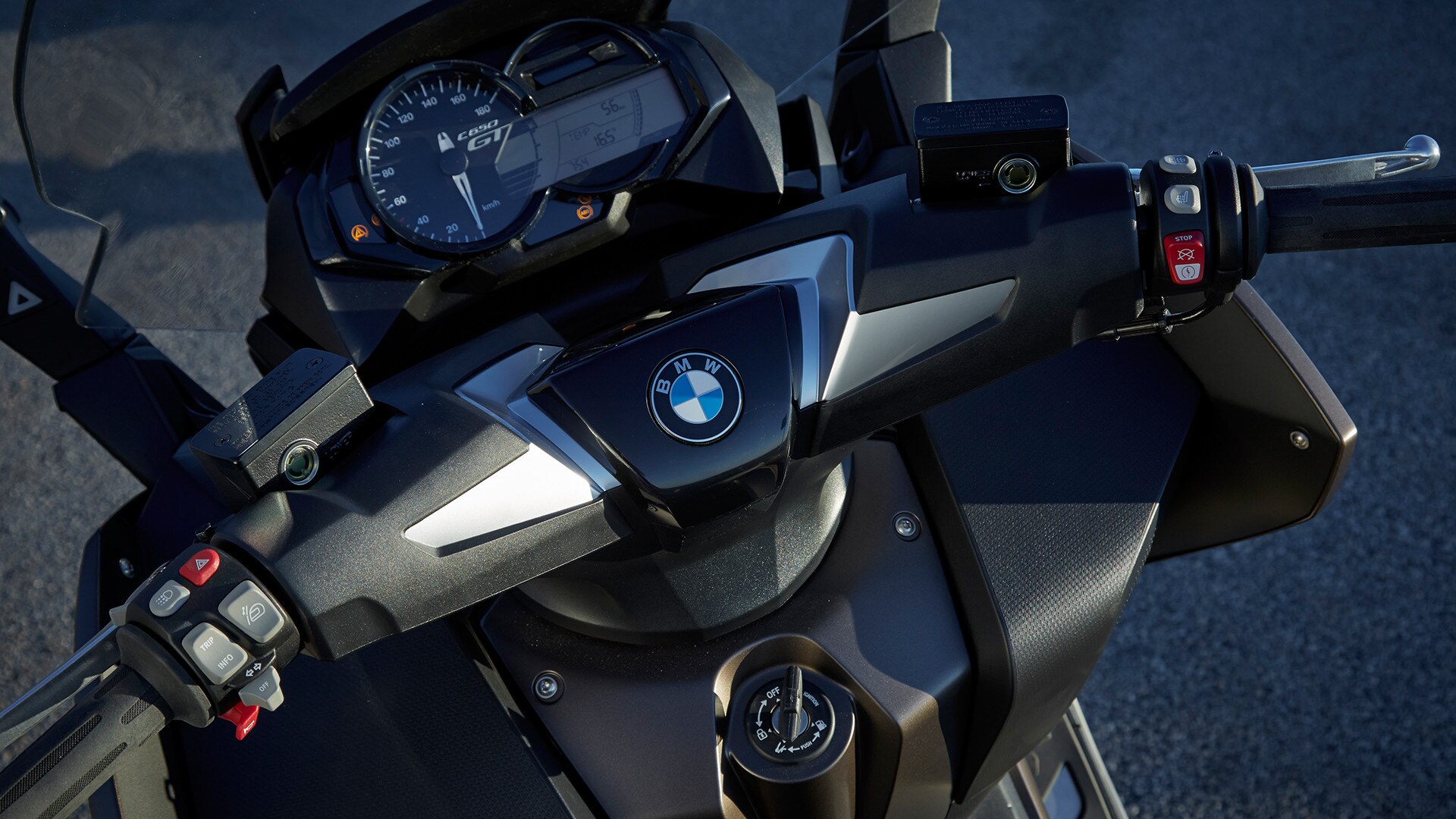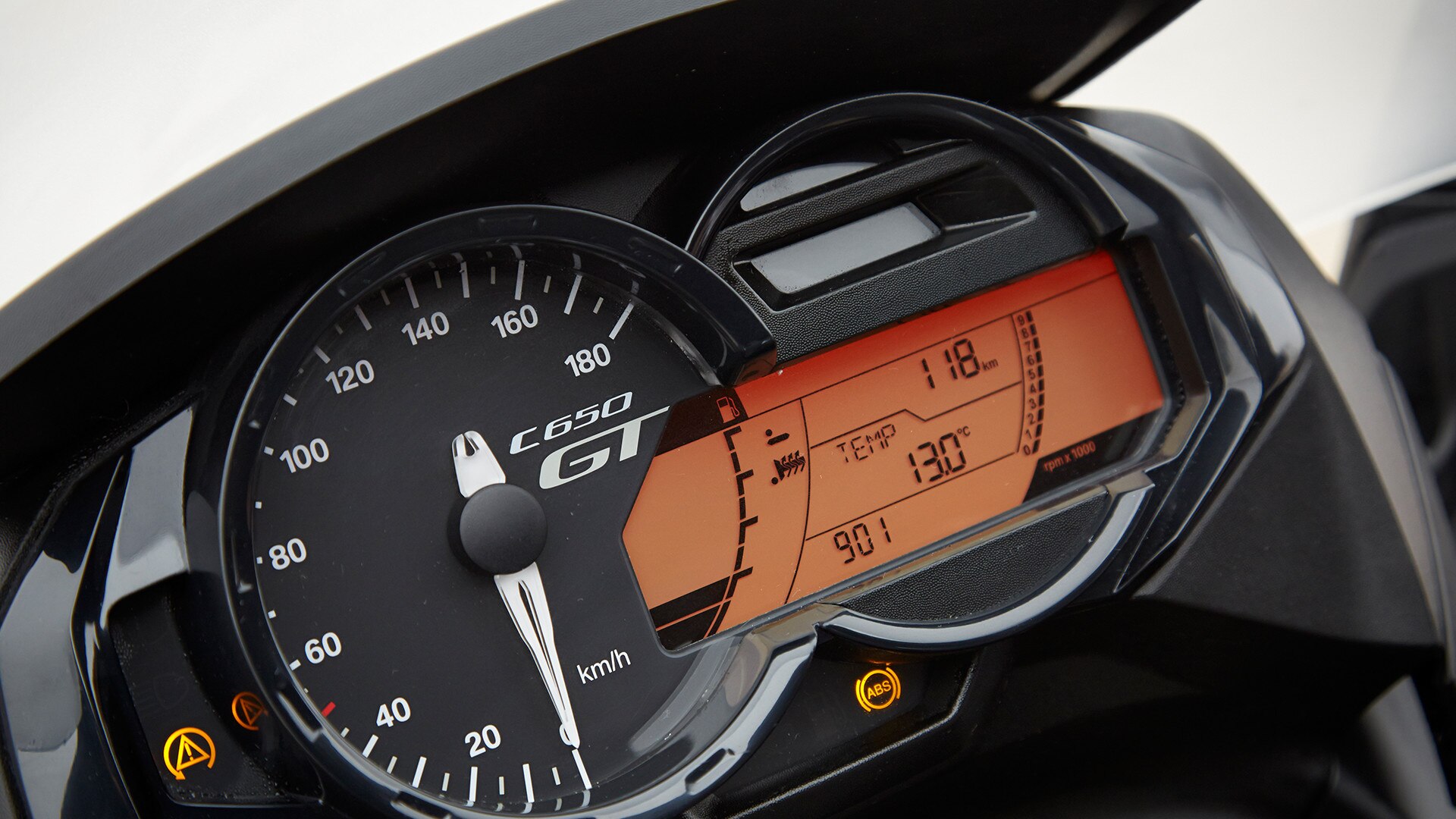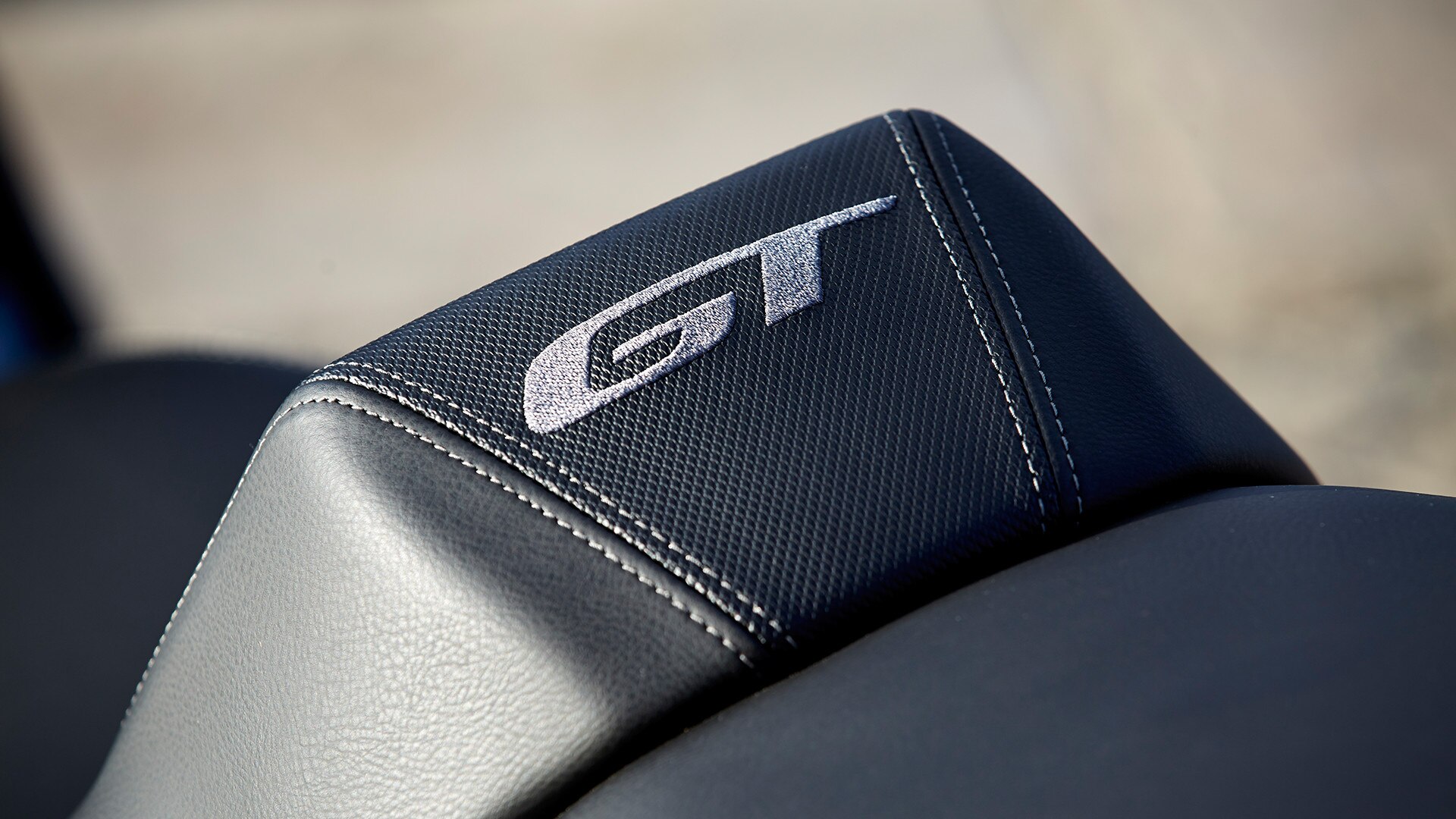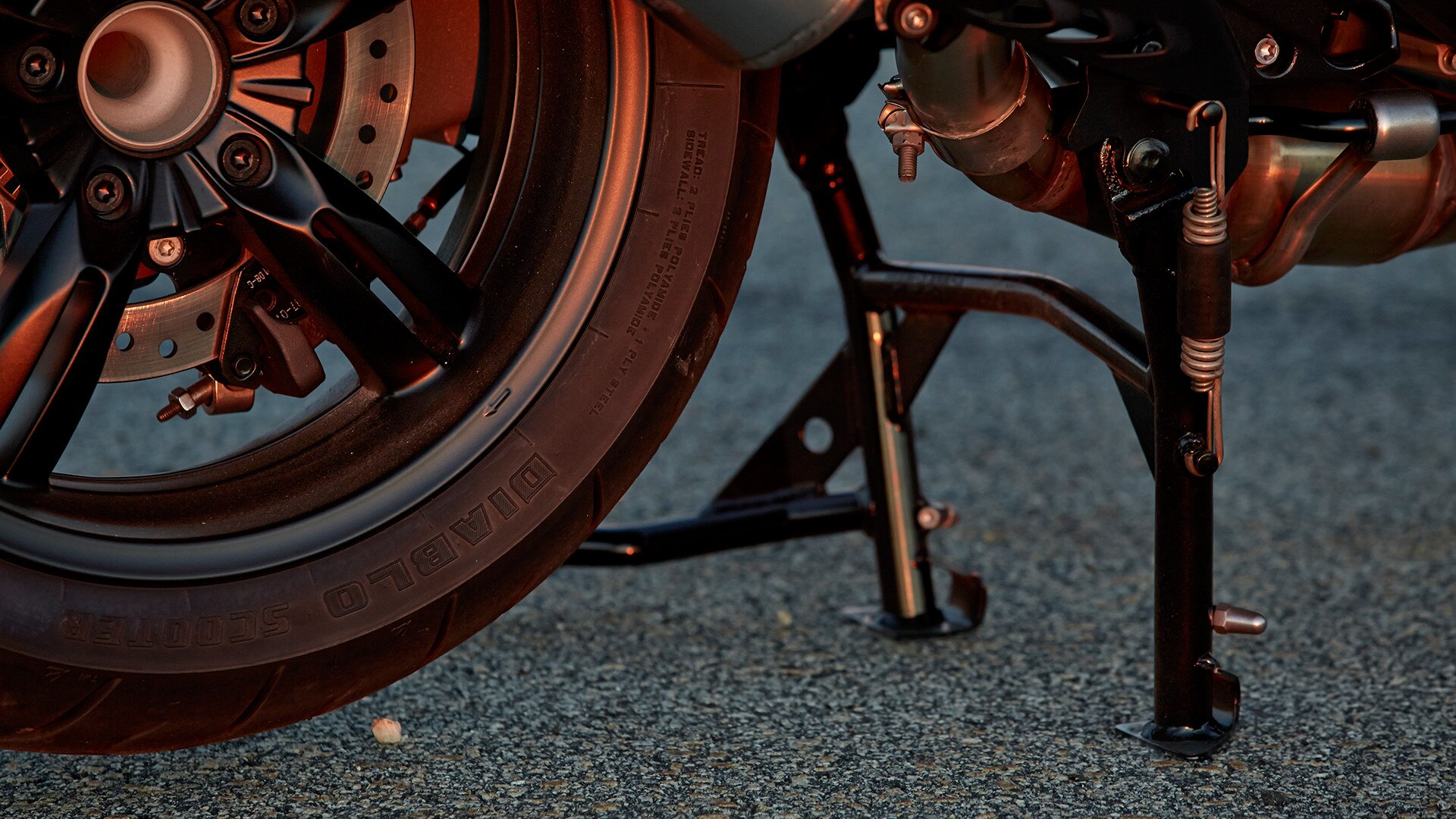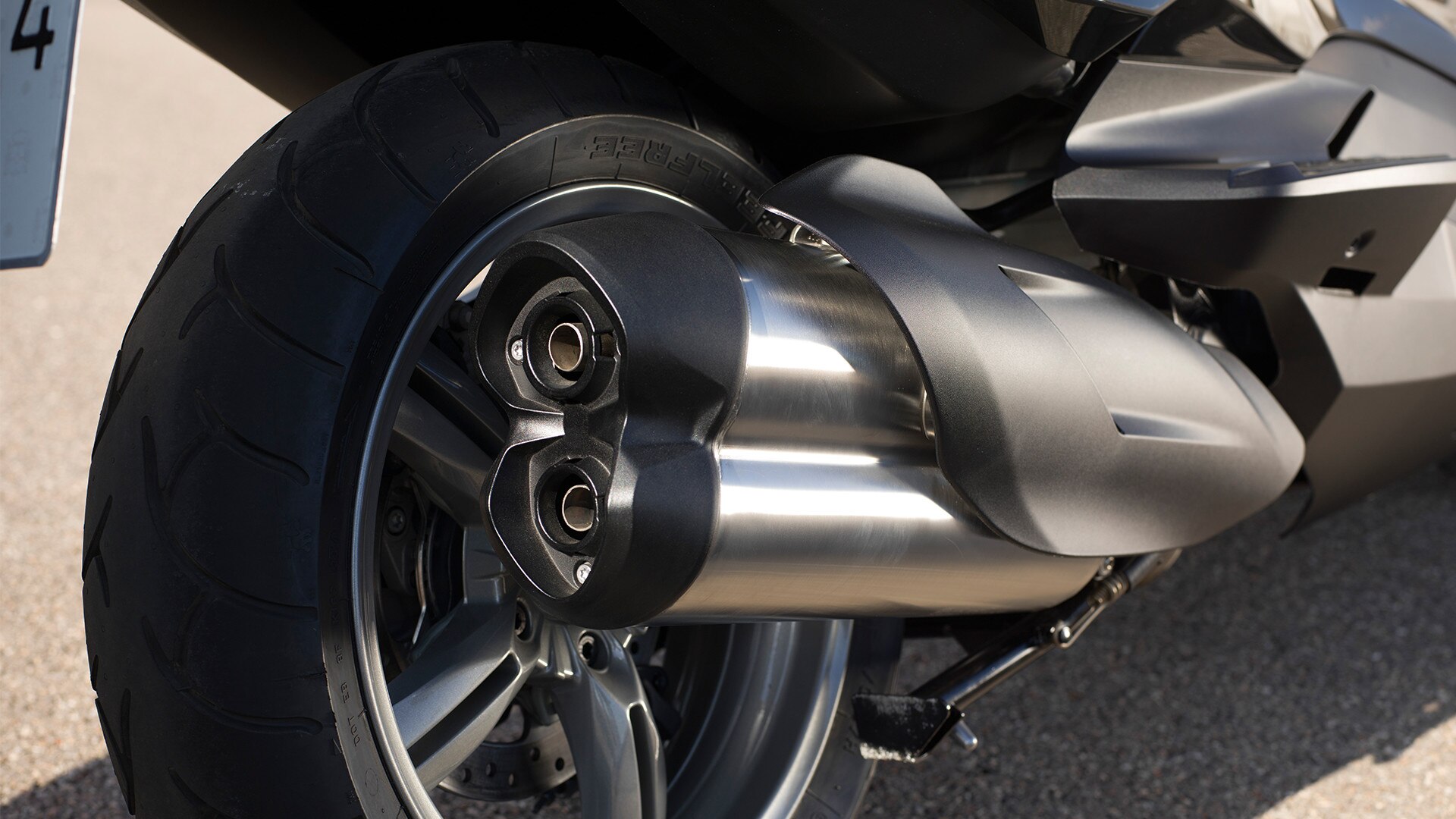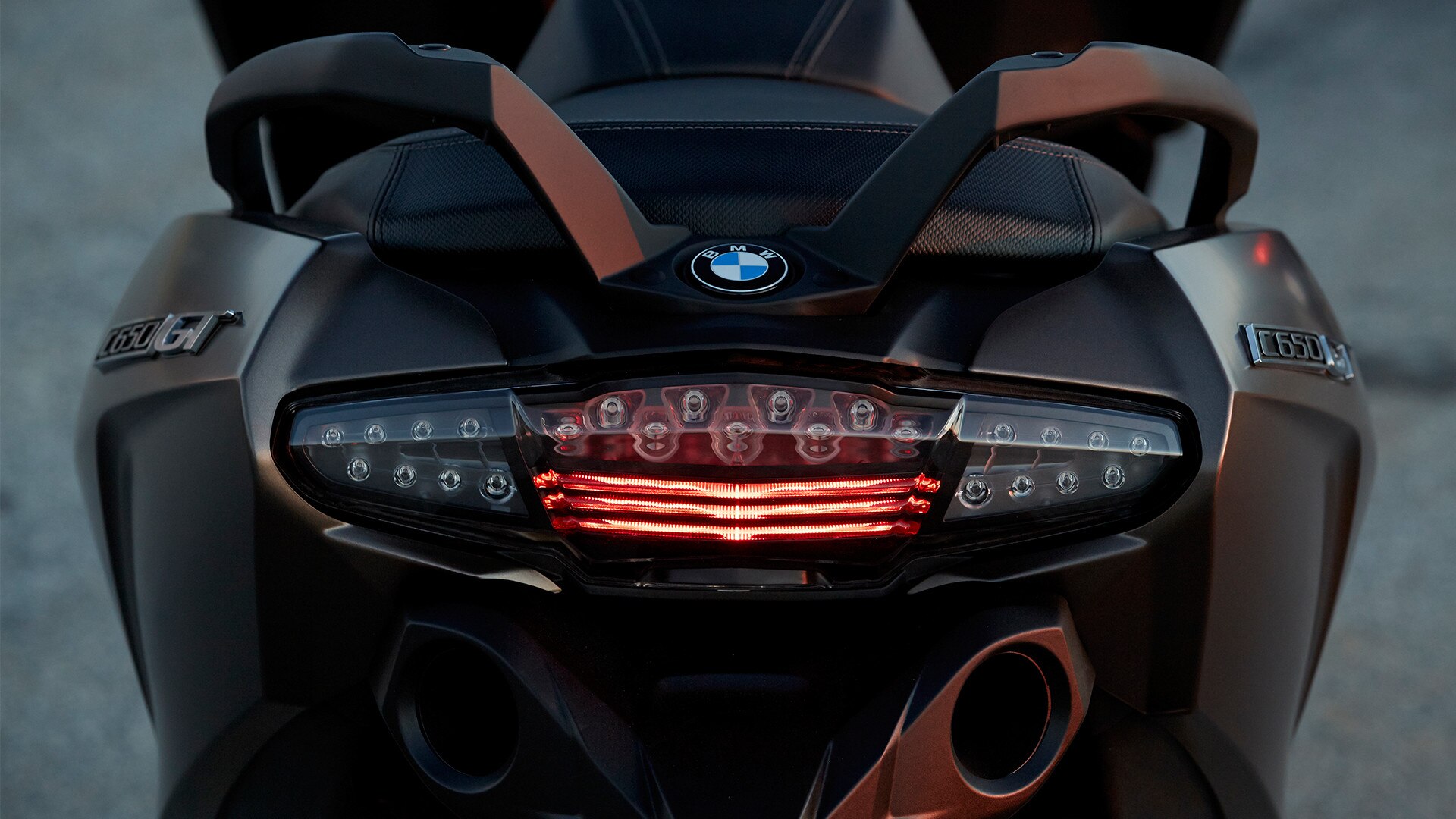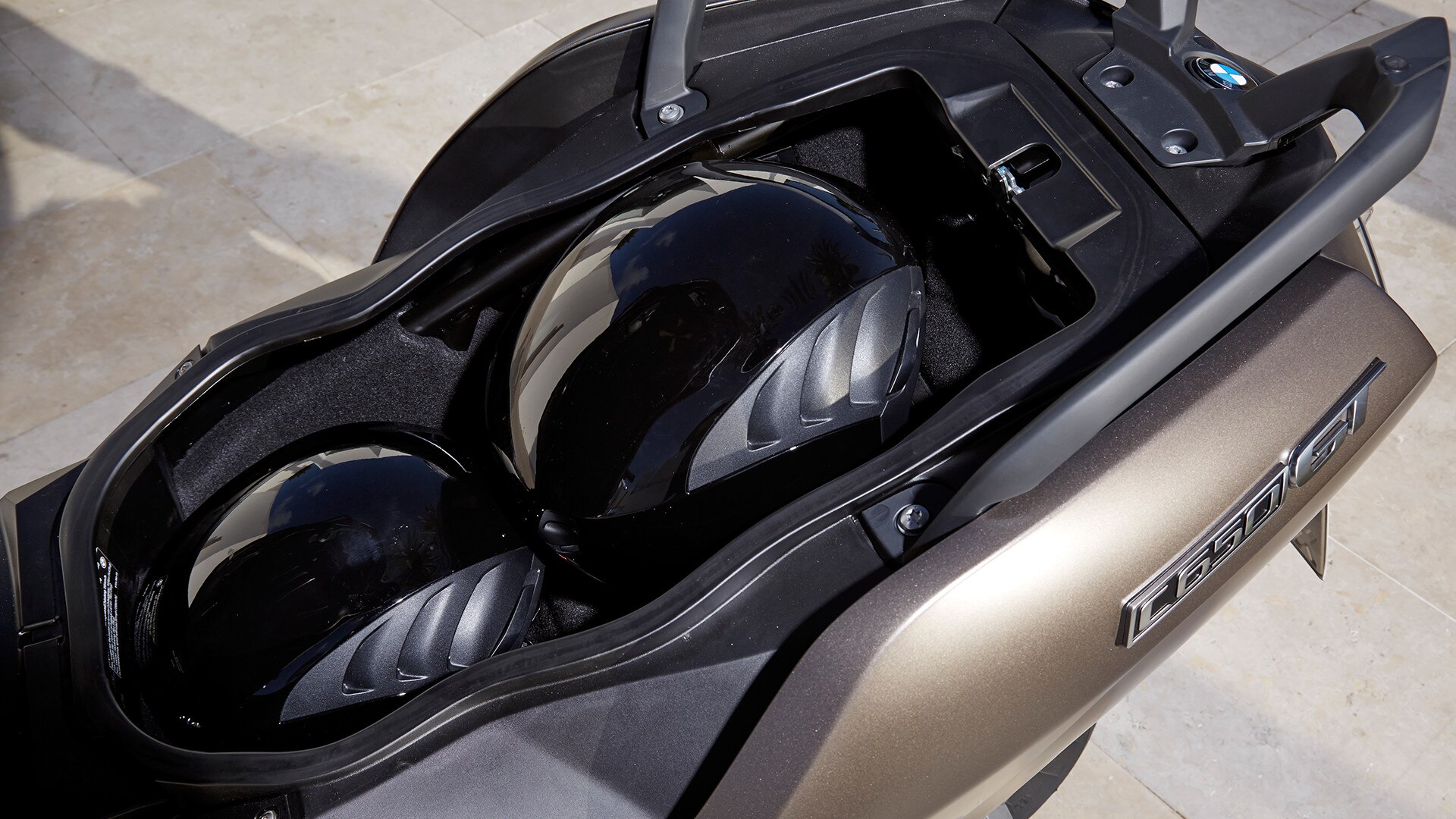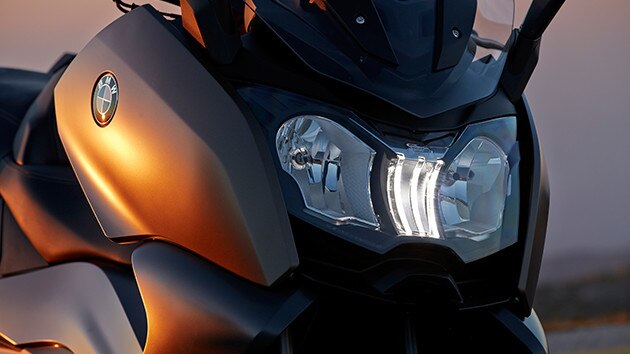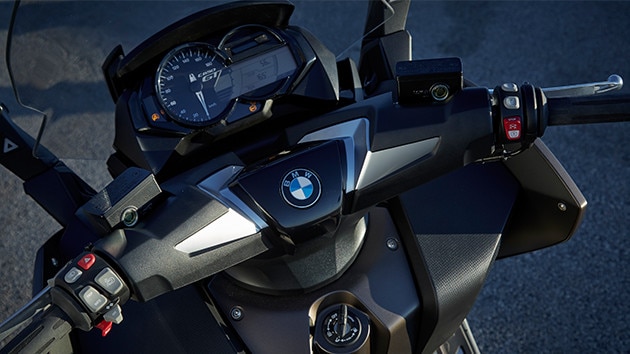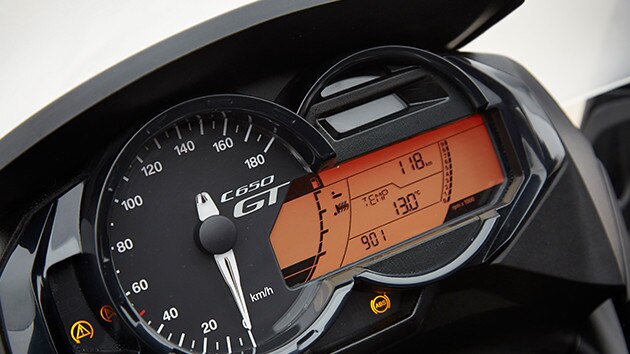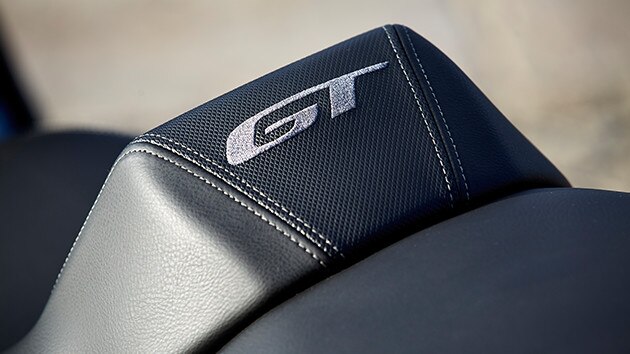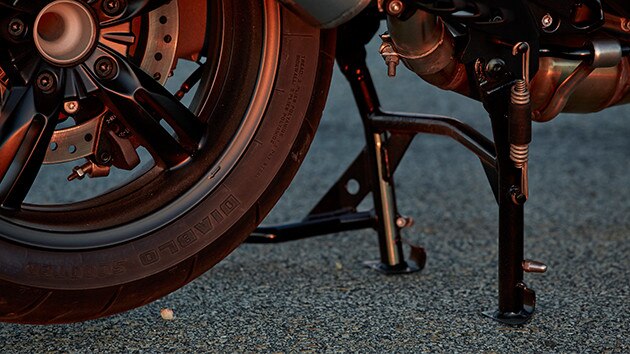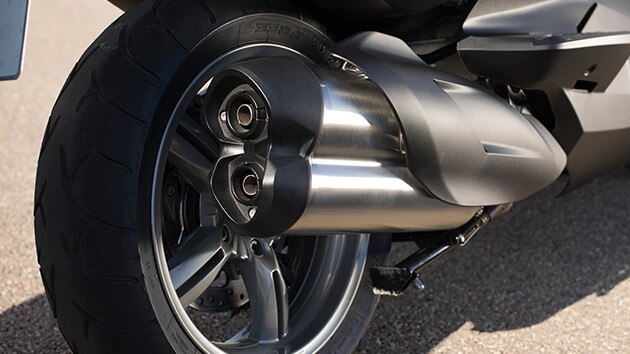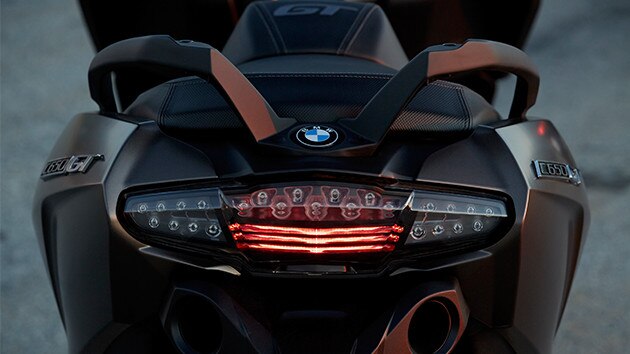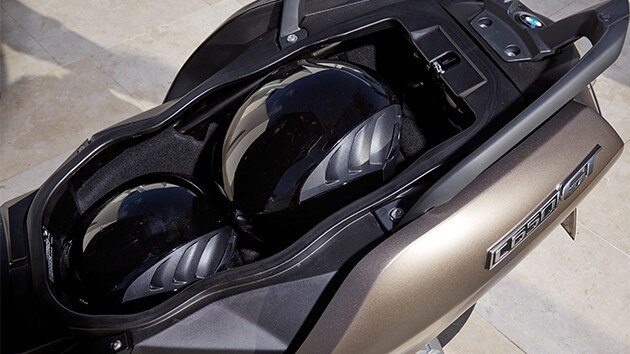 Comfortably through town.
Comfortably through town.
The C 650 GT is the most exclusive maxi scooter from BMW Motorrad. You can now ride in extra comfort thanks to the electrically adjustable windscreen and optional accessories such as heated handles and seat. The scooter also features the largest storage compartment in its class, integrated invisibly in the stretched silhouette.
+ Read more
Highlights in detail.
Side View Assist (SVA).

See what goes on around you.
An innovative safety feature is the optional (SVA) Side View Assist. This is particularly useful in an urban environment as it warns of vehicles approaching in your blind spot at speeds of up to 80 km/h.

ABS and ASC as standard.

The the greatest possible safety when braking and accelerating.
In addition to the ABS (anti-lock braking system), a fully-fledged ASC (anti-slip control) is now standard for C 650 GT, too. The ASC enhances rider safety, especially when road conditions are unpredictable, through active intervention in the engine management system when required. It prevents the back wheel from spinning when driving in the rain, for instance.

New spring and shock absorber setting.

New, more convenient setting.
The chassis and suspension setup of the C 650 GT has been completely re-designed. The spring rate of the front fork springs and the rear spring strut has been reduced by 10 percent. This gives the vehicle more sensitive response without reducing its stability.

Adaptive daytime riding light.

Automatically ensures the best lighting.
The daytime riding lights automatically adjust to the environment. When entering and exiting a tunnel, for example, they automatically switch to low beams and back. The rider no longer has to manually adjust the lights. This makes it easier to concentrate on the traffic.

Optimised centre stand.

Easier to jack up.
The C 650 GT is even easier to jack up. The kinematics of the main stand have been re-designed, reducing the strength required for jacking up the scooter by 30 percent.