R nineT Scrambler
From $21,370* Ride Away

*Manufacturer's Recommended Ride Away Price for a new BMW R nineT Scrambler with no optional extras. Price is based on the motorcycle being garaged in Sydney metro and a private owner with a good driving record. Price may vary according to individual circumstances and may vary between authorised BMW Motorrad dealers and states/territories. Modifications and mistakes reserved. Please consult your authorised BMW Motorrad dealer for further details.


The BMW R nine T Scrambler.
HONEST. UNTAMED. AIR COOLED.
Break away and accelerate toward freedom with the BMW R nineT Scrambler. Experience a rugged bike with the authentic looks and hallmarks of the iconic scrambler era, with a high-positioned dual silencer that deliver powerful acceleration and an unmistakeable sound.
It's clear from the first glance that your ride doesn't end when the road does, with a range of off-road options that will allow you tackle your next adventure wherever it takes you.
Choose your style.
Discover the range of available colours on the R nineT Scrambler.
R nineT Scrambler
Option 719
Specification.
BMW Motorrad ABS & ASC

Dynamic Brake Light
Telescopic Forks
Comfort Turn Indicator
Adjustable Levers
Available Options.
Option 719 Black Storm Metallic / Aurum Paintwork
Option 719 Black Storm Metallic / Light White Paintwork
Aluminium Fuel Tank - Sanded Weave Weld

Aluminium Fuel Tank - Visible Weave Weld
Option 719 Billet Pack Classic
Option 719 Billet Pack Storm
Option 719 Billet Club Sport
3 Years Warranty.
Ride on & on & on. We're giving you an extra year. 
Now there's a 3-year warranty on all motorcycles.*
* Valid on new motorcycles purchased from 1st October 2018
The R nineT Scrambler harks back to the legendary scrambler era and has all the hallmarks of this extraordinary type of motorcycle: a telescopic fork with bellows, a distinctive raised exhaust and a large 19-inch front wheel. The compact steel tank in Stereo metallic matt highlights the puristic look.    
In addition, the optional cross-spoke wheels with studded off-road tyres make it clear from the first glance that no tour need be over when the road comes to an end. The seat in leather style and the speedometer with analogue display are also eye-catchers. High-quality details like the round headlights with BMW emblem make the classical heritage look perfect.
+ Read more
Twin-cylinder boxer engine
116
Nm max. tightening torque at 6,000 rpm
220
kg empty weight, fully filled up
Air/oil-cooled flat twin ('Boxer') 4-stroke engine, two camshafts and four radially aligned valves per cylinder, central balancer shaft
Powerful boxer for dynamic riding fun.
Powerful boxer for dynamic riding fun.
The engine and electrical system are already proven components of the BMW R nineT. The beefy, air-cooled twin-cylinder boxer engine features a capacity of 1170 cc and 81 kW (110 bhp) of output for a highly dynamic riding experience. And thanks to standard ABS and optional ASC you can take this power safely to the streets any time.
+ Read more
Experience the sound of the R nine T Scrambler
The highlights of the R nine T Scrambler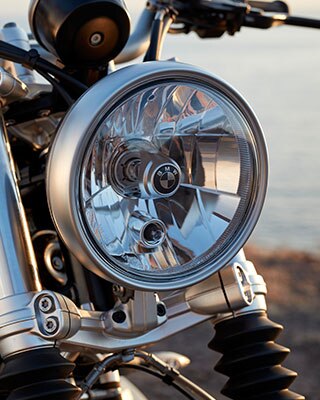 Telescopic fork with bellows.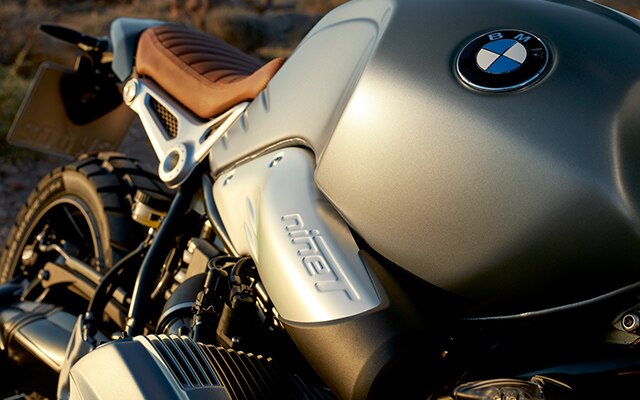 Speed indicator with analogue display.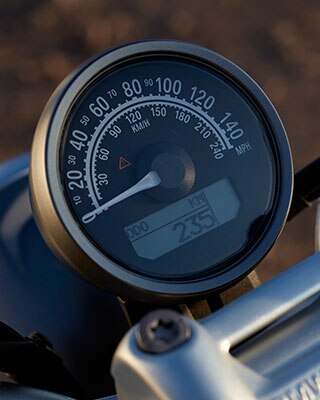 Roughly toothed foot rests.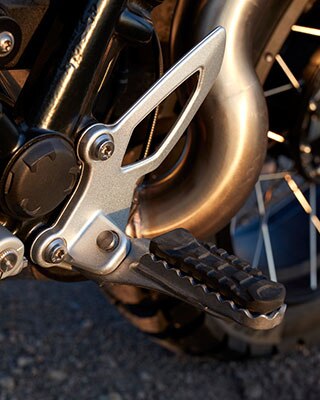 Seat in patented leather style.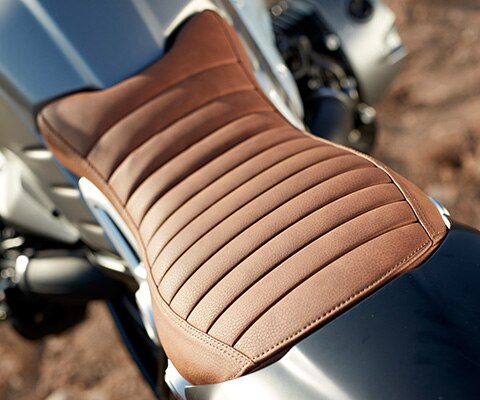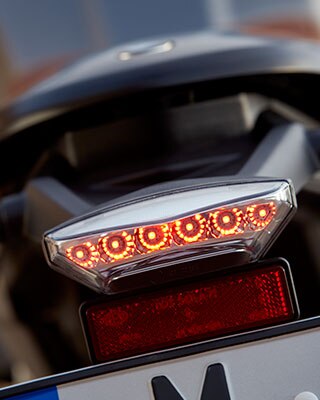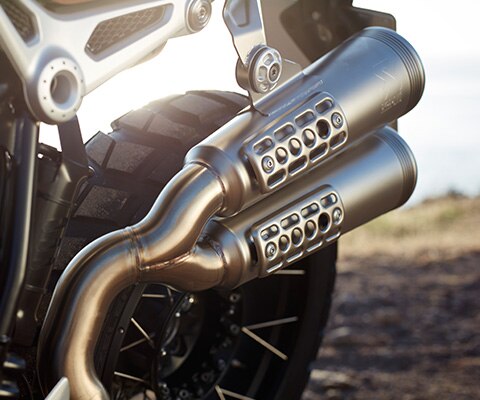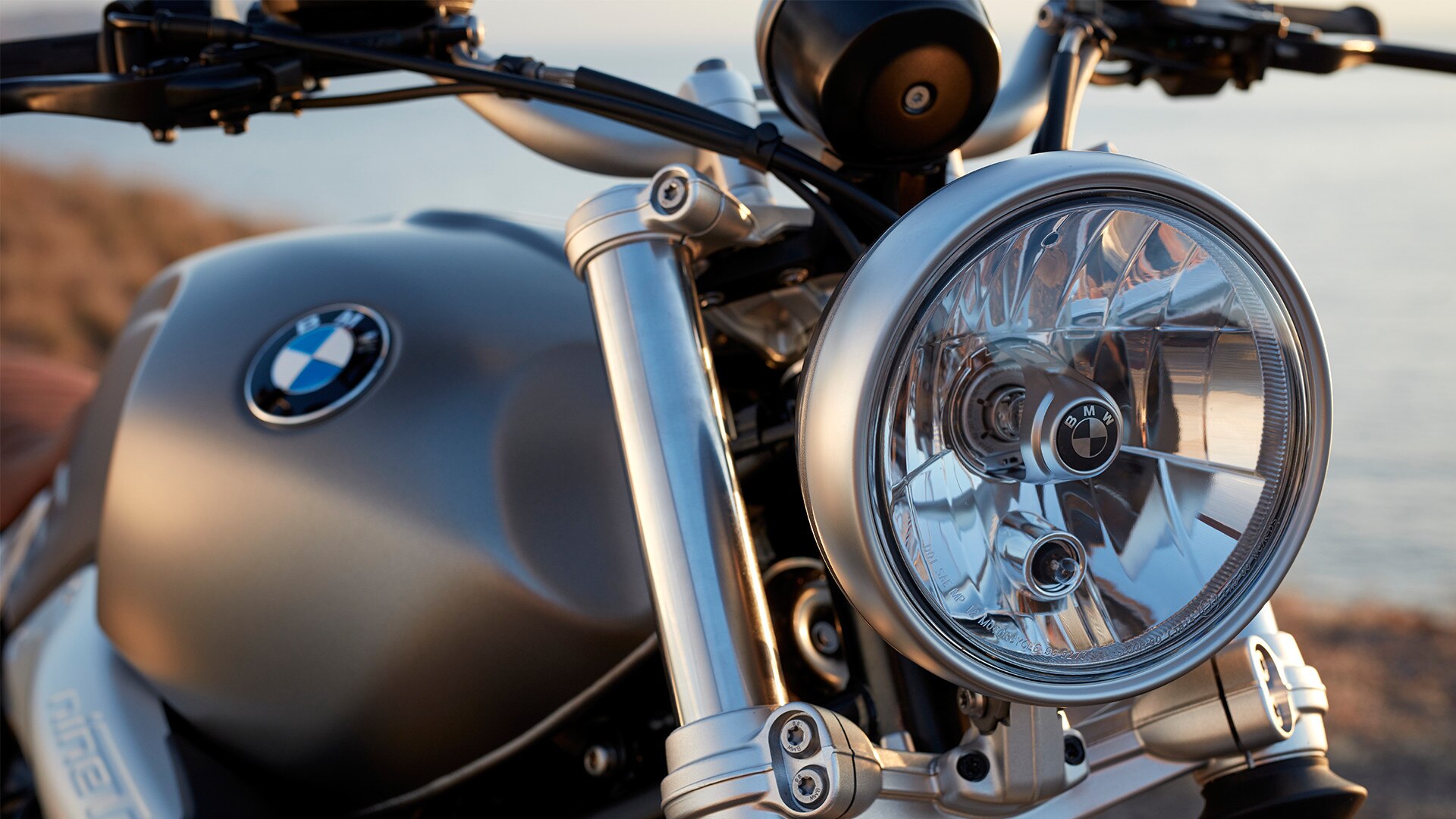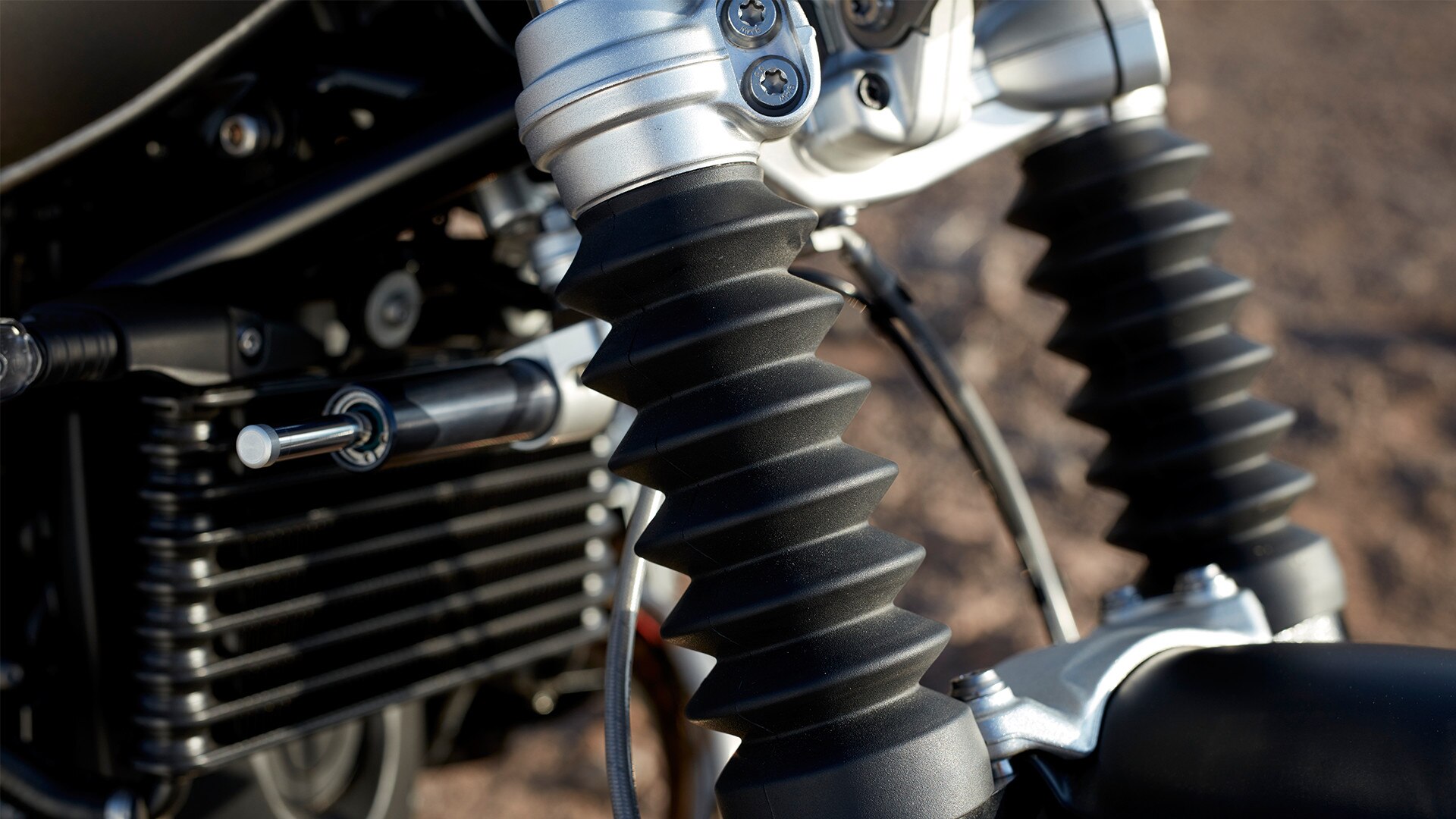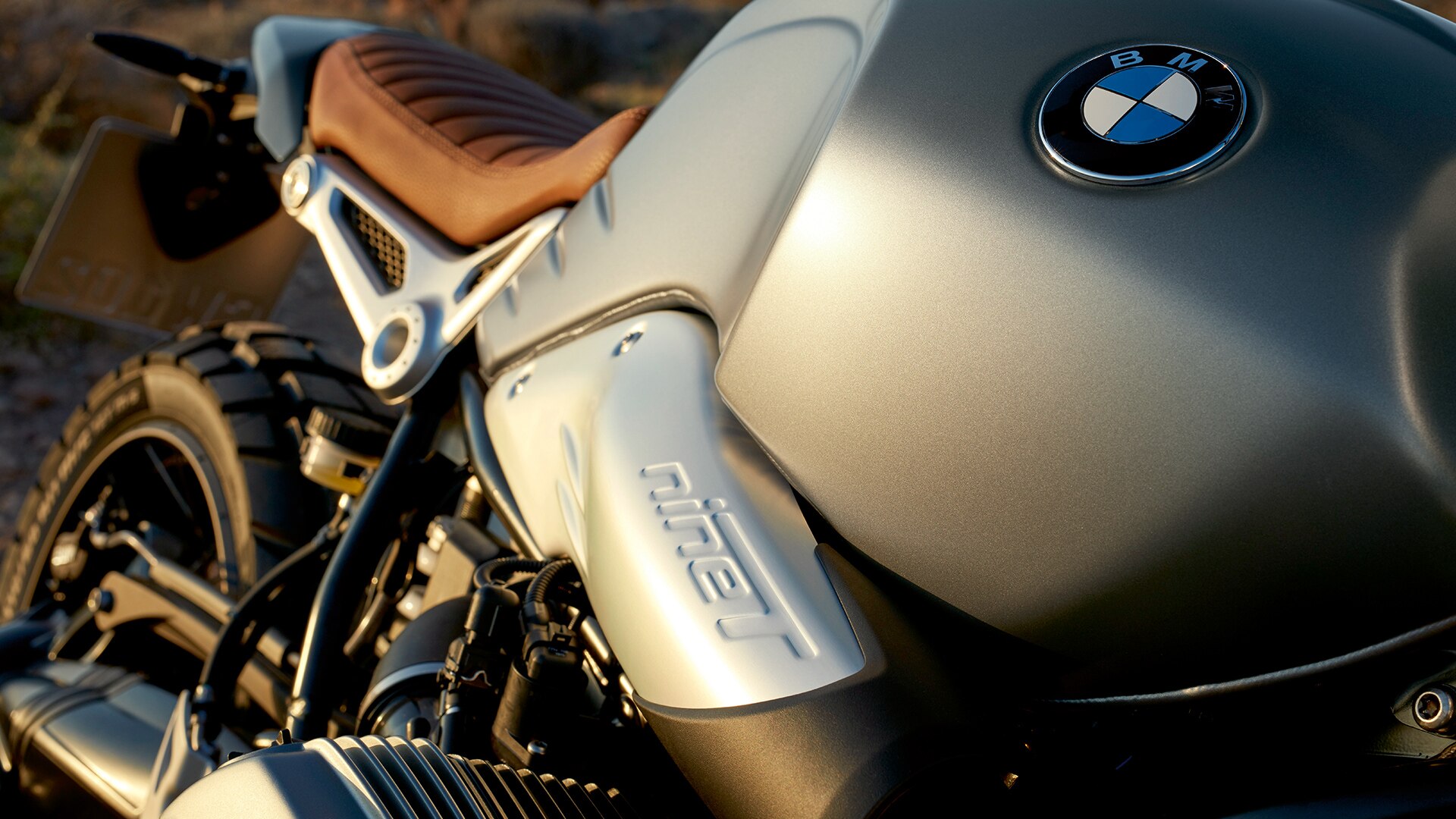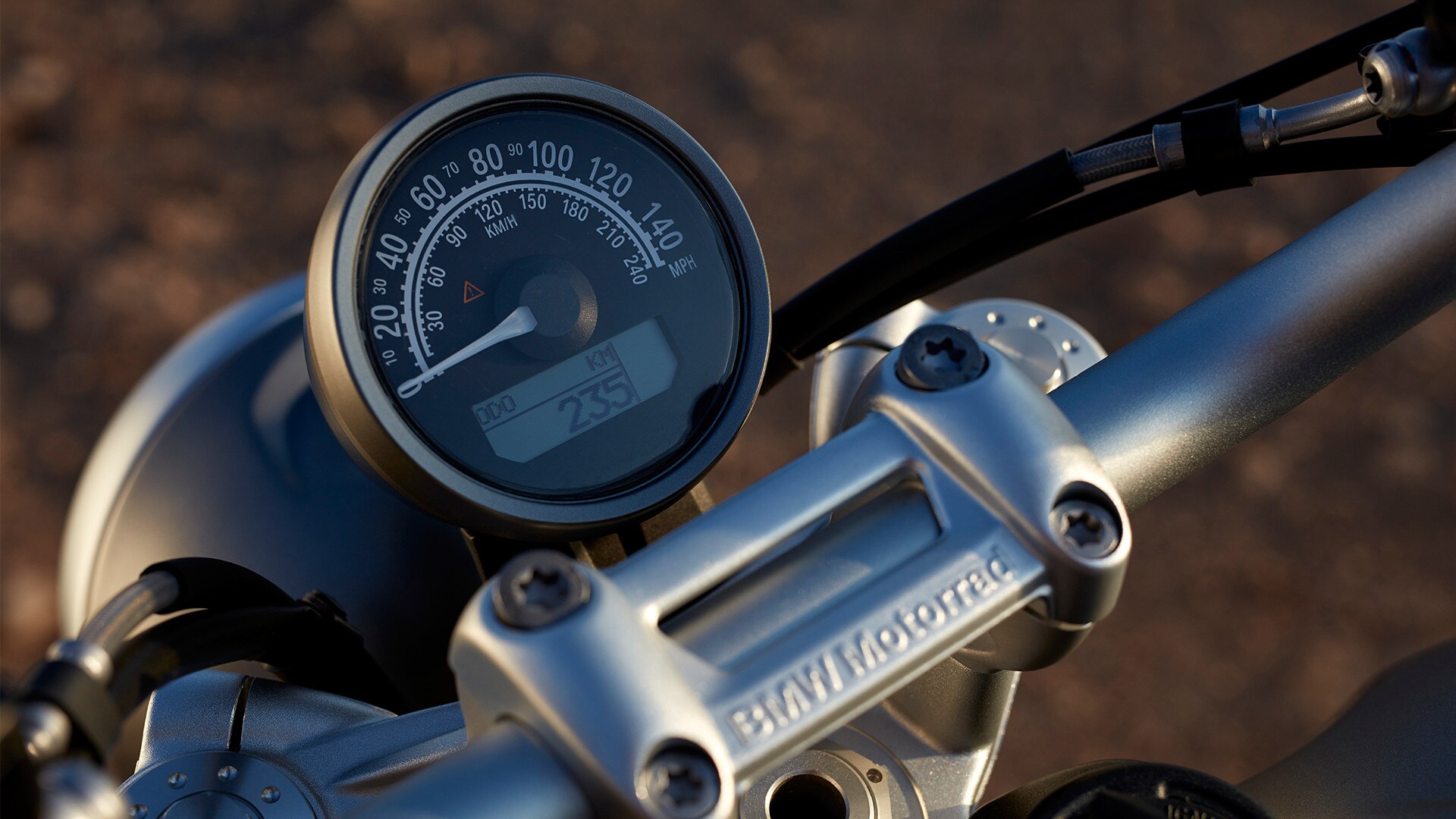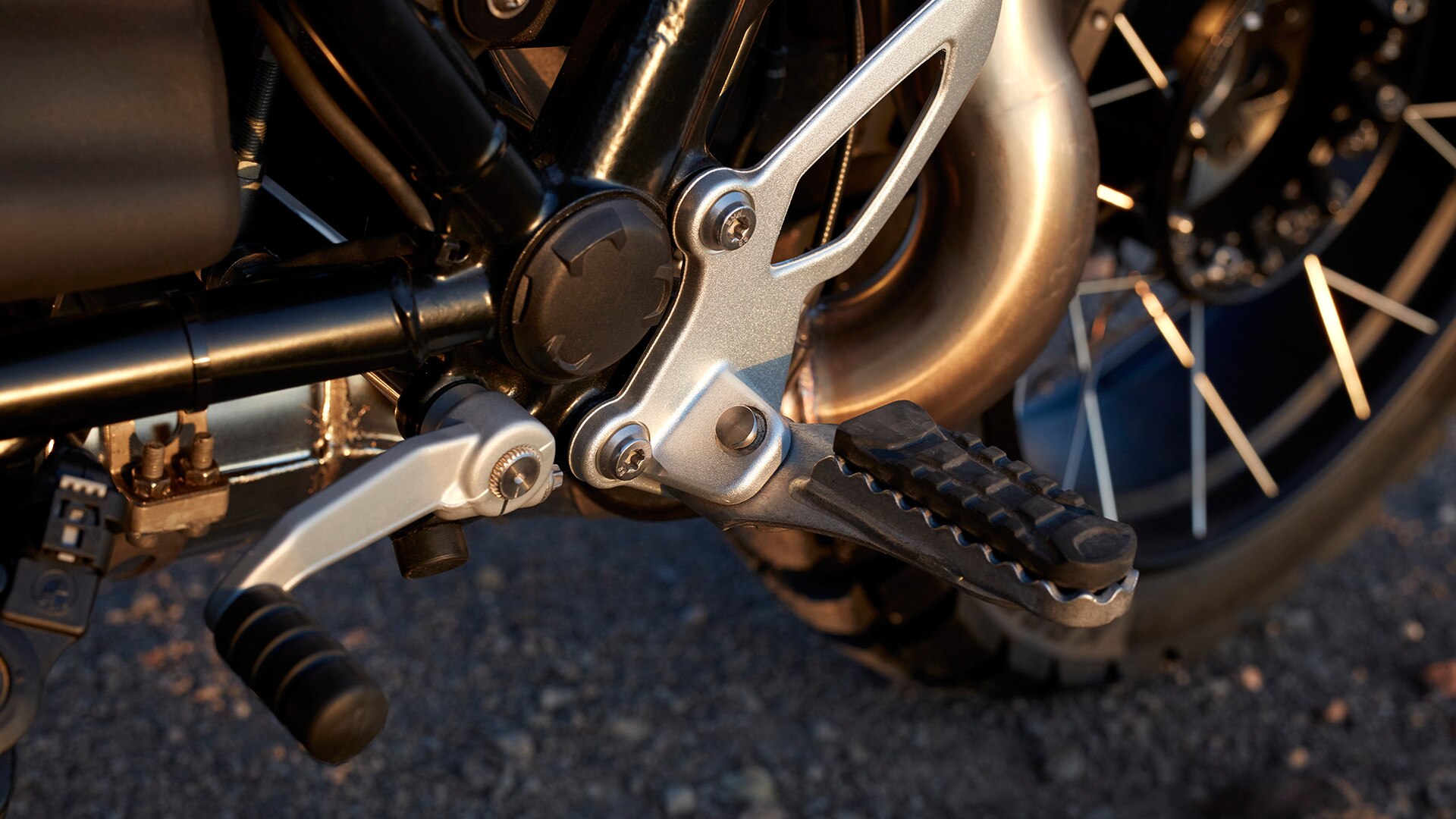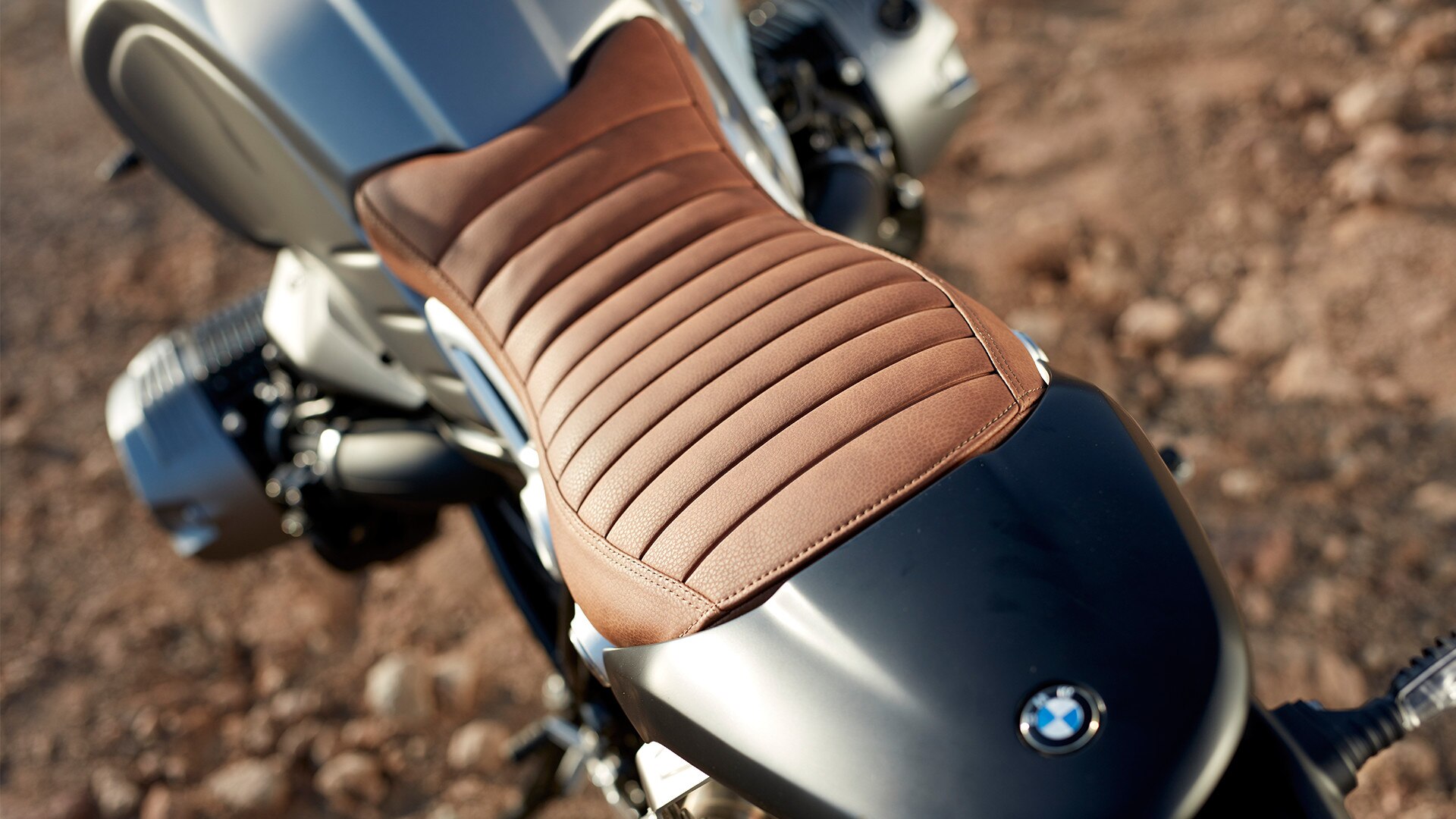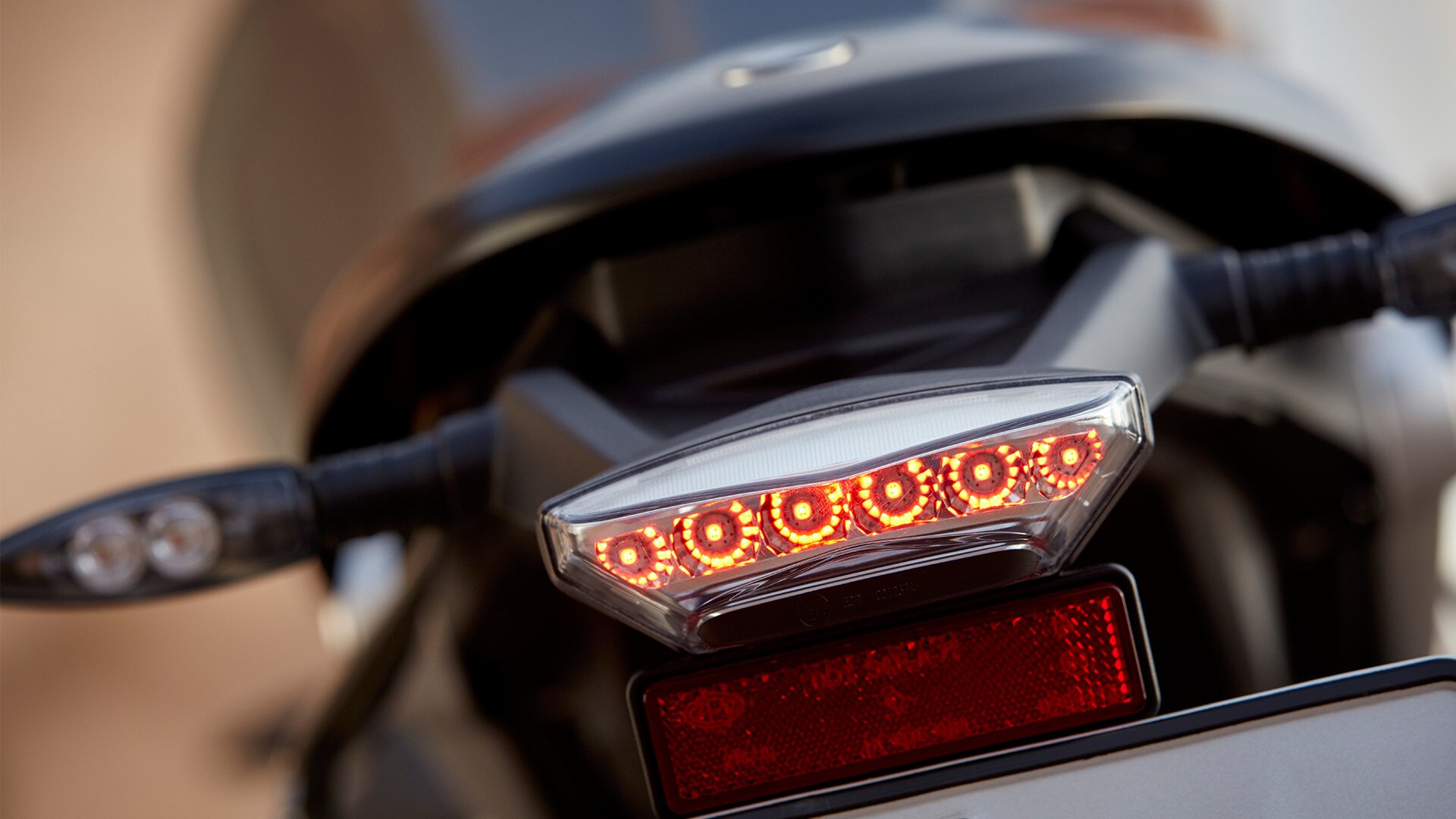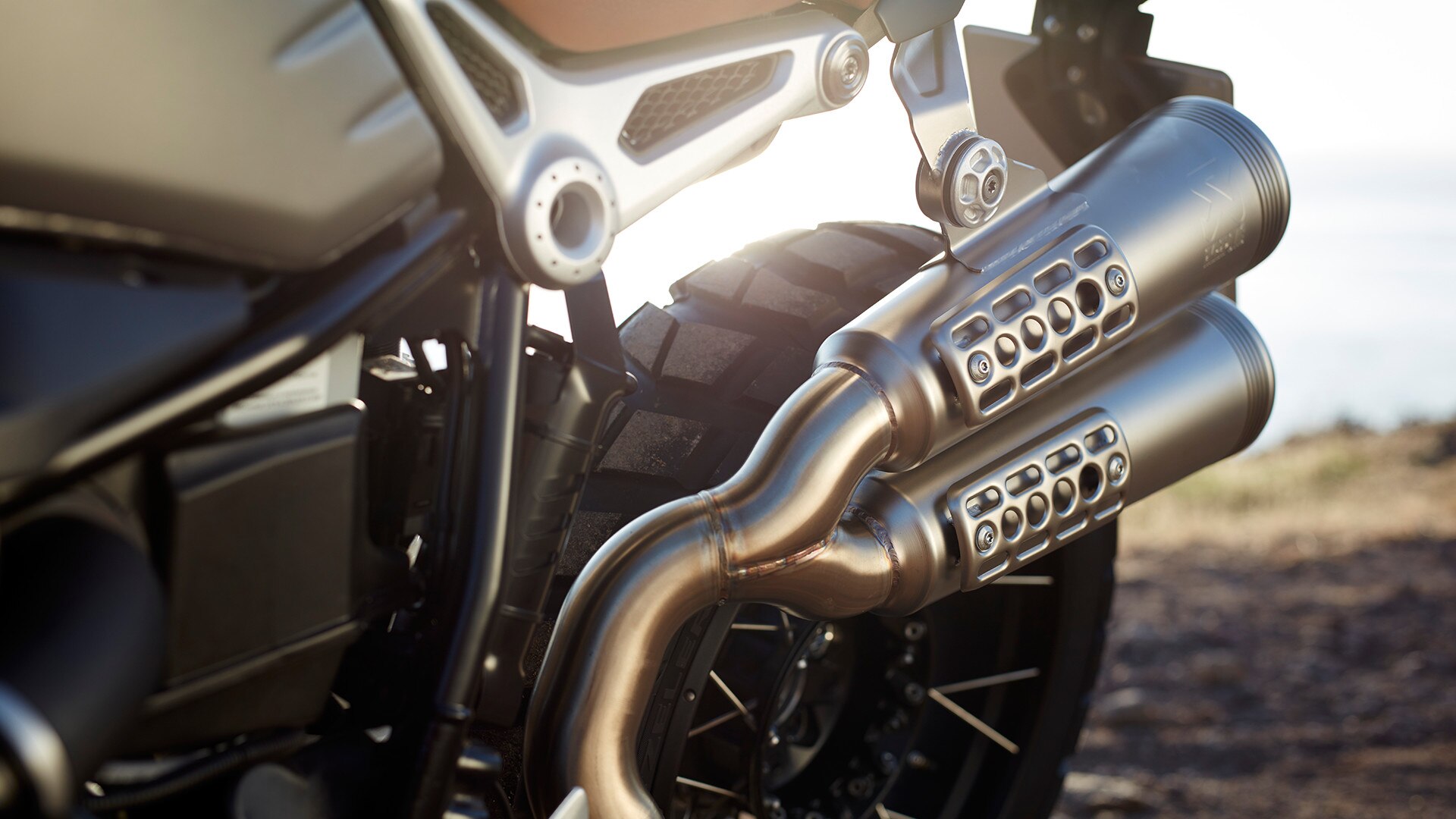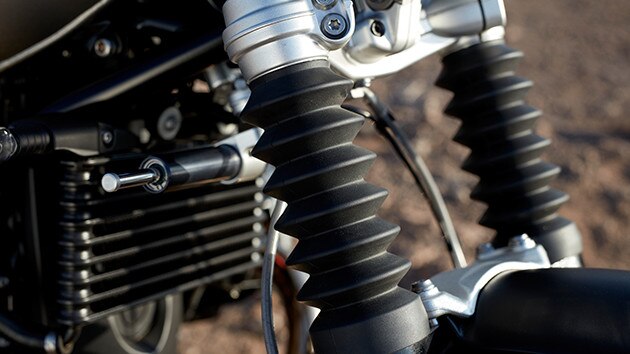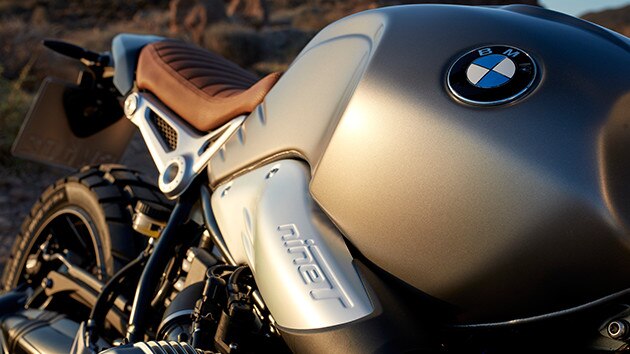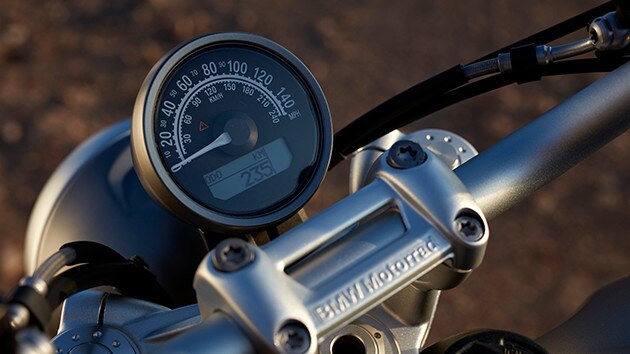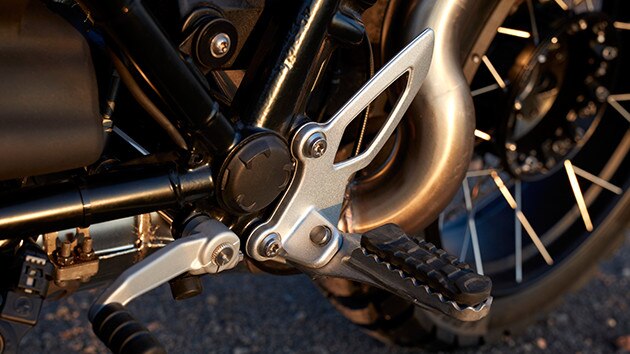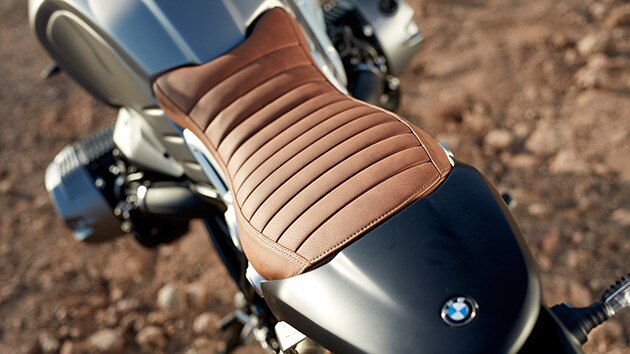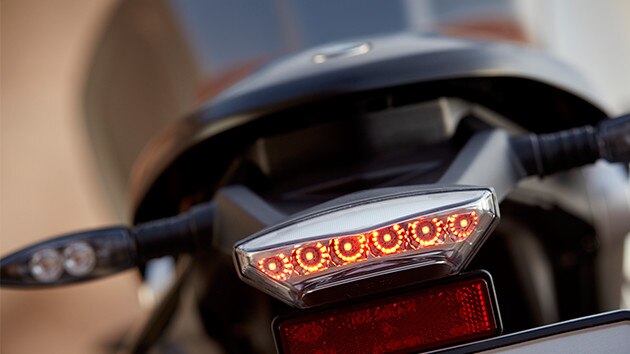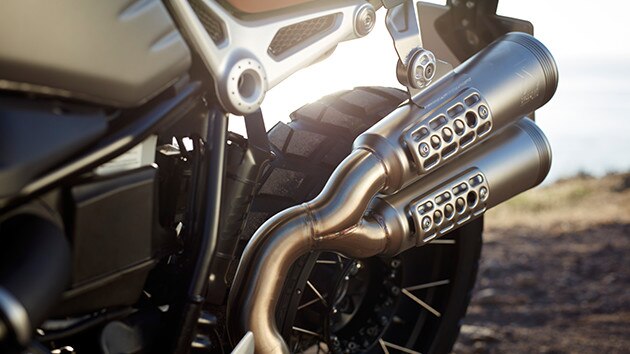 Casual Scrambler feeling.
Casual Scrambler feeling.
A relaxed upright seating riding position is one of the key features of a scrambler. It not only looks laid back, it also makes for a relaxed ride feel. Even long rides to the nearest beach are a breeze thanks to the bike's higher handlebars as compared with the R nineT, slightly reduced seat cushioning and footrests that are positioned somewhat lower and further to the rear.
+ Read more
No limits.
No limits.
Endless customisation: The R nineT Scrambler provides a whole host of ways to change the visual appearance and, therefore, the character of the dynamic boxer completely to your taste. With the tailored range of exclusive designer optional equipment from BMW Motorrad Option 719 and the Original BMW Motorrad accessories you can make the bike match perfectly with your personal preferences. Even professional customisers can really let off steam creatively: thanks to the high degree of customisation, there are practically no limits when it comes to the R nineT Scrambler. 

+ Read more
BMW Motorrad Option 719
Bring your character onto the road.
No tinkering, no surprises, no compromises. With BMW Motorrad Option 719, you get a bike with your personal touches and the highest quality standards.
At BMW Motorrad Option 719 you will find particularly high-quality designer optional equipment such as the exclusive Option 719 milled parts set and colours or performance enhancing accessories from HP Parts.
The interplay between long-standing development skills from BMW Motorrad and the interaction of complex production processes connected with tradition-steeped craftsmanship facilitate a new level of significance and exclusivity.
Learn more